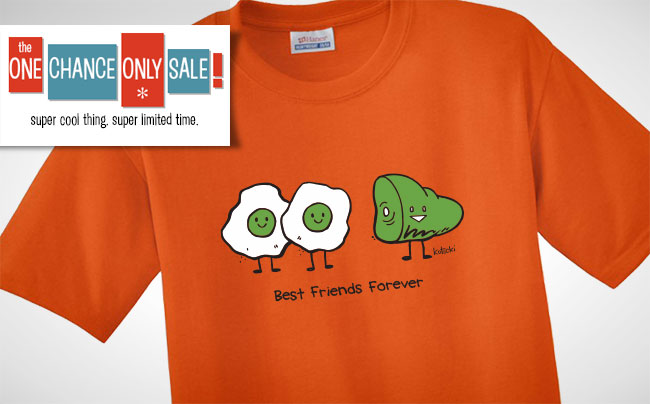 I am a creative person. I like making stuff. What I don't like is managing inventory, trying to guess how many of something to buy, or the idea of living in a warehouse.
So we've come up with something we're calling The One Chance Only Sale. Here's how it works:
We offer something we think is cool, take orders for a week, and then buy the exact number of goodies that we need to fill those orders. So whether it's two or two thousand, I get to make cool things, you get a chance to own them, and we don't waste any money on stuff that takes up space in our basement.
Now, does this mean we will never EVER offer this product again? Not necessarily. But there are no guarantees, so if you see something you like, your best bet is to snag it while you can. Chances are it won't be available anytime soon because I'll be busy creating the next thing.
Our first offering is a t-shirt that serves as a whimsical tribute to the venerable Dr. Seuss and his bestselling children's book, Green Eggs & Ham. As one of the greatest duos of all time, is there any question that green eggs and ham are best friends forever? I came up with this idea over a year ago, and eventually made it into a print, but I always thought it would make a great t-shirt. So here it is.
Printed on a Gildan Soft-Style 4.5 oz, 100% cotton pre-shrunk jersey knit with tapered neck and shoulders for a better fit. It's SUPER soft and destined to become your favorite t-shirt :)
Your chance to order this item goes "poof!" on Monday, November 26, 2012. Get yours right now.
NOTE: Since we work with a great local printer with a pretty fast turnaround, we are planning to have shirts in people's hands by Christmas.
This shirt will come to you in a box. You can wear this shirt with a fox!