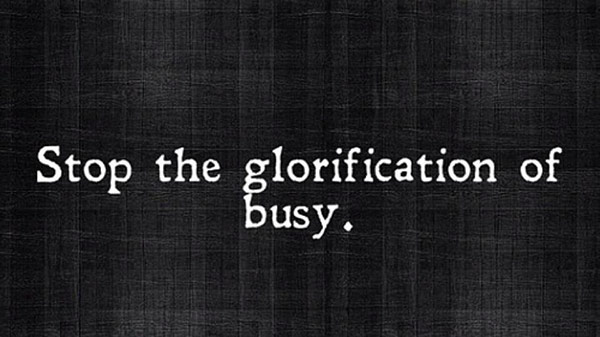 "If you live in America in the 21st century you've probably had to listen to a lot of people tell you how busy they are. It's become the default response when you ask anyone how they're doing: 'Busy!' 'So busy.' 'Crazy busy.' It is, pretty obviously, a boast disguised as a complaint."
—The 'Busy' Trap – NYTimes.com
Yes, yes, a million times yes.
As I've written before, taking the drug called busyness is an effective way to feel engaged in life. But although it's easier to stay busy than to slow down and make hard decisions about what kind of story you really want to live, the end result is not very satisfying.
I love this post by Andrea Scher about her refreshing new mantra: I'm actually not that busy.
Warning: if you measure your level of importance and value by how busy you are, there's a pretty good chance the story you're living sucks.
And yes, this is a reminder to myself as much as anyone.