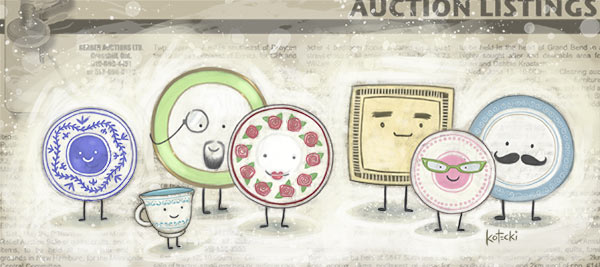 Yep, plates tell stories. Especially fancy plates.
A few months ago, a woman came up to me after one of my speaking programs to talk about her experience cleaning out her mother's home after her passing. The woman and her siblings found a box of fine china, each piece carefully wrapped just as it was when it was gifted to their parents on their wedding day. The mother was married for over fifty years. She had four kids. Thirteen grandkids. And the china was still in the box, unused.
Although muffled by cardboard and packing paper, these plates told a clear story: There is no occasion special enough to risk chipping or breaking a plate.
Of course, that's the main reason our fine china is so underused, isn't it? We can't bear the thought of breaking a plate and ruining the set. Naturally, the only way to prevent that is by keeping them buried in the box they came in. Forever. Or sentence them in some sort of wood and glass display case, where you can at least lovingly look upon them NOT being used.
That's one story. Another one goes like this, and it was shared with me by a lady I met in Salt Lake City. She said that her mother always used the good china for weekly Sunday dinners and every holiday. Naturally, a plate or a teacup got broken here and there. But instead of lamenting over the loss, she would pick up something to replace it the next time she was at a thrift or antique store, unconcerned whether it matched her current set or not. Over the years, the original set evolved into a magnificently mismatched collection of eclectic dinnerware. Each plate, each saucer, each bowl told a different story. Not only the mysterious story of its original owner and unique history, but together they told a collective story with one unmistakable moral: Life is meant to be lived and worthy of celebration.
I don't know about you, but I like that story better.
Which story are your plates telling?

[ About the Art: This brought me back to my days of being an illustrator because I had the post written before I made the art (usually it's the other way around). I scoured eBay to find reference materials for fancy china, hoping to turn each piece of dinnerware into a unique character. I used an newspaper clipping of an auction announcement as a background, which I thought was fitting. There is something fascinating to me about second and third hand items. I like to imagine the stories they'd have to tell of previous lives with past owners. ]