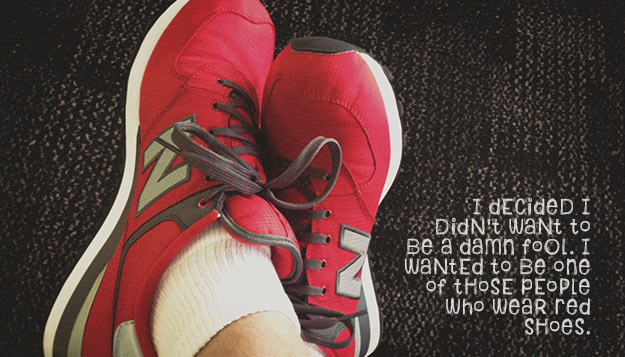 When it comes to fashion, I'm pretty plain. My daily uniform is usually jeans and a t-shirt. When I speak, I gussy up the jeans and t-shirt with a sport coat. Throughout my entire life, my shoes have typically been one color (black or white) with no more than one accent color. To me, fashion is all about two things: comfort, and not looking like an idiot. Since I'll never be mistaken as a New York City fashionista, the "looking like an idiot" part is avoided by keeping things plain and simple.
And then I started thinking about getting red shoes.
A few months ago, I found myself in the market for new sneakers. Every once in a while, I would notice someone wearing red shoes. I'm talking ALL red, not white or black with a tiny splash of red. They're hard to miss, those Red Shoe People. I always thought to myself, "Man, I wish I could pull those off." Those Red Shoe People always seemed so fun and confident and free. Eventually, the wish become stronger and the whispers became louder.
"Why can't I pull them off?" I began asking myself. "Why can't I wear red shoes?"
The answers I told myself were variations of the same theme:
They won't match anything.
You'll look ridiculous.
People will notice you more. And not in a good way.
Who do you think you are? A celebrity? The only people who can pull crazy stuff like that are celebrities.
Face it, you're just not one of those Red Shoe People.
Eventually, these so-called reasons really started to get to me. I spent A LOT of time mulling it over in my head. It became clear that this was about more than shoes. Ultimately, I had only one person to convince — myself.
Believe me, it was not lost on me how silly it was to agonize over shoes. Freaking shoes, man. This was NOT a life or death decision. And the biggest reason for not pulling the trigger? Worrying about what other people might think of me. Bottom line, that was it. Eventually, I came to the conclusion: "They're shoes. Who cares what other people think? If you'd enjoy wearing them and the only reason you don't is for fear of what other people might think, you're a damn fool."
I decided I didn't want to be a damn fool. I wanted to be one of those people who wear red shoes.
And so I ordered a pair of red New Balance shoes from Zappos. Knowing they had a generous return policy, I was going to get a more "conservative" pair, just in case I really couldn't pull off the red shoes and needed to send them back. As it turned out, they didn't have the fallback pair in my size, so I just ordered the red.
And you know what?
I love them. They are probably my favorite pair of shoes I've ever worn in my whole entire life. I love how they make me feel. Not just because they make me feel fun and confident and free, although they do, in spades. They make me feel like a guy who decided it didn't matter what other people think. And that's where the fun and confidence and freedom come from. My soul smiles every time I tie the laces.
The moral here has nothing to do with whether you wear red shoes or not. Maybe you are already a Red Shoe Person, and you read this post thinking, "Jeez, dude, get the red shoes already. It's not that big a deal." Or maybe you're someone who has no interest whatsoever in owning a pair of red shoes. Regardless of what camp you find yourself in, there is probably something in your life you've always (probably secretly) wanted to own, do, or be that you've talked yourself out of. You've sold yourself on the idea that you're just not "that type of person."
Here's the deal: You ARE that type of person if you WANT to be. Simple as that. Life's too short to worry about what other people think.
A neat footnote to this story (hey! a pun!) is that the very first day I wore these shoes in public, I was at a restaurant. When the waitress came to our table, she enthusiastically remarked, "I love your shoes!"
"Me too," I smiled.
What are the "red shoes" in your life?