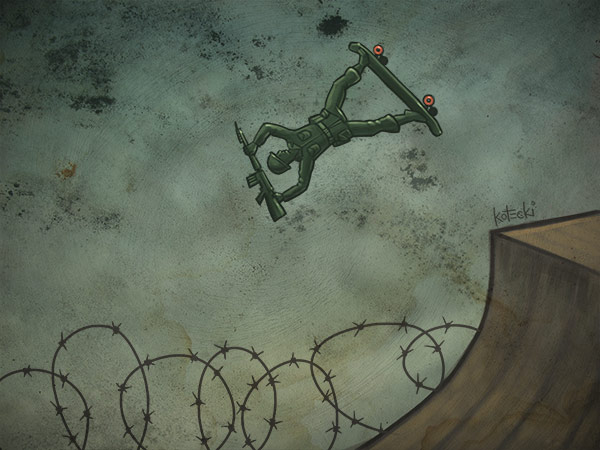 We are in a war against Adultitis.
And putting googly eyes on inanimate objects, decorating your cube for Halloween, and making ugly cakes for co-workers are some of the weapons we have on our side.
Too bad some people prefer keeping them locked away.
I spoke at a conference for 9-1-1 dispatchers recently. Afterwards, a woman told me about what a drag it is working at her dispatch center. "It didn't used to be that way," she said sadly. "We used to keep toys at our work stations and had a lot of fun decorating our offices for every holiday. But our new boss doesn't allow it. He thinks we should be more serious. It's really affected the morale of our whole team, and even officers who stop in ask where our decorations went."
Stories like this make me sad and angry all at once. Stories like this remind me why burnout is so rampant in today's workforce. It is possible to LOVE what you do but DISLIKE where you work, and burnout happens when people work in an environment with low job satisfaction and a feeling of powerlessness.
Burnout can be easily resolved.
But it requires leaders who see the power in bringing fun in to the workplace and are smart enough to understand that having a little fun in no way diminishes the seriousness in which one takes his or her responsibility.
I can't imagine many more serious occupations than a 9-1-1 dispatcher. On a regular basis, they hear screams of terror and horrible tales of human suffering. And with great professionalism and compassion, they listen and they offer help. To think that anyone can survive — let alone thrive — in an environment like this without a little fun and humor is just plain idiotic.
I'll admit, sometimes I feel inadequate for suggesting some of the ideas that I do in my talks. They are as silly as they are simple. I imagine the people with crossed arms wondering, "Who paid this guy to tell us THIS?"
Too many leaders see something like decorating an office as a frivolous waste of time. Even if they acknowledge a morale problem, they refuse to believe that such simple solutions can be be effective. And that's where they're wrong. We human beings worship complexity, but the truth is that the simplest solutions are often the ones that work best.
Simplicity is the ultimate sophistication.
The benefits of humor do seem too good to be true. And yet conversations like the one I had with that 9-1-1 dispatcher leave me ever more convinced that if we really want to win this serious war against Adultitis, we need to get serious about having fun.
Your turn: What's your favorite way to have fun at work?