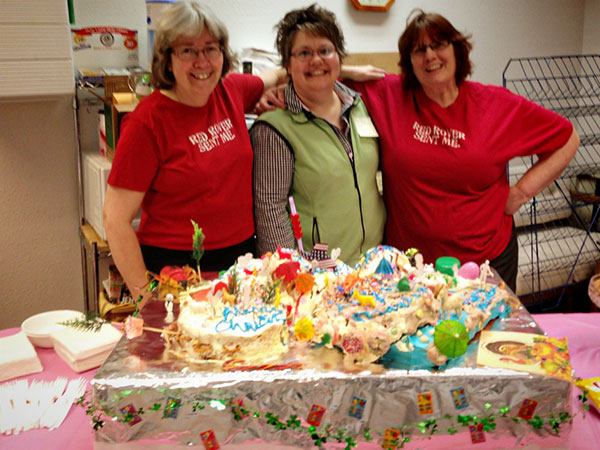 Kathleen Molland, Jeanette Raab, and Susan Withey were at a speaking program I did in Williston, North Dakota. I told the Ugly Cookie story. Then these three took it to a whole new level. Here's what happened, in the words of Kathleen:
A few years back, Melissa, the guest of honor, was in charge of ordering a cake for our foster family Christmas party. When Melissa picked up the cake, it was not what she expected…..there was a big old turkey on it and a few other holiday trinkets, written in very small letters was "Happy Holidays." It was the cake decorator's first day or two on the job and she was so proud of her creation. Needless to say, Melissa took a lot of good natured guff for the cake.

When it was time to plan Melissa's goodbye party (she was leaving the agency and venturing into a new position), the three of us that had attended Escape Adulthood were very quick to volunteer to take care of the cake. We had so much fun planning it, and we giggled as we threw it together. Just about all of the holidays we could think of were represented on the cake.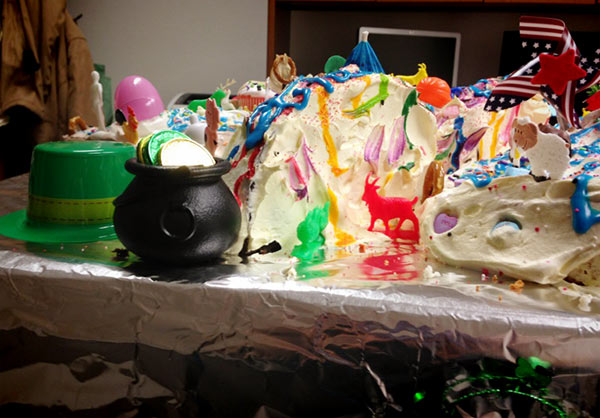 Melissa lives on a farm so we stuck a bunch of animals on the cake. We even put a mutant bug on the cake (too many farm chemicals!).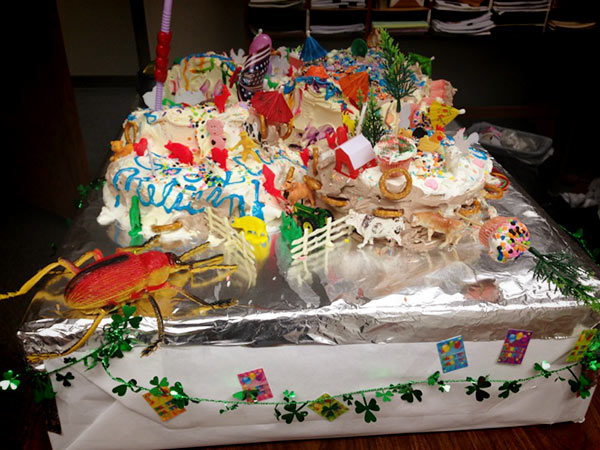 The cake tasted better than it looked—-we had strawberry, lemon, chocolate, fun fetti, and angel food.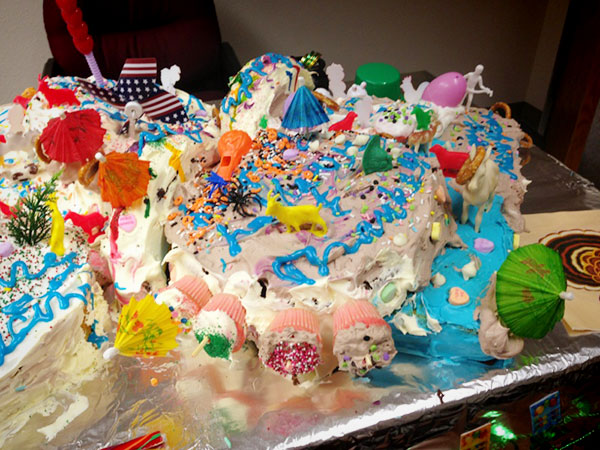 Melissa loved the cake! And now she is providing counseling services at Northwest Human Service Center. We are not sure if everyone appreciated the humor……but we sure had fun doing it!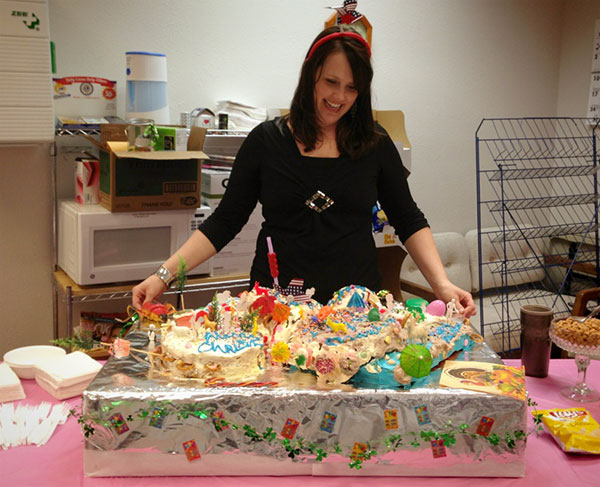 We could not be any more in love with this multi-holiday cake of art. Which is why we are designating each member of this threesome as official Champions of Childhood. Their example shows us that goodbye cakes needn't be formal, somber, or even one flavor!
Way to go, Kathleen, Jeanette, and Susan — you are true Champions of Childhood!
---
A Champion of Childhood is someone instilled with the soaring spirit of childhood who rallies against rules that don't exist while engaging in ruthless, senseless acts of silliness that undermine the slavery of Adultitis and its unadventurous version of adulthood. We like shining a light upon the most remarkable among us, holding them up as a dazzling example of what we should strive for in this epic battle against Adultitis. See more here.