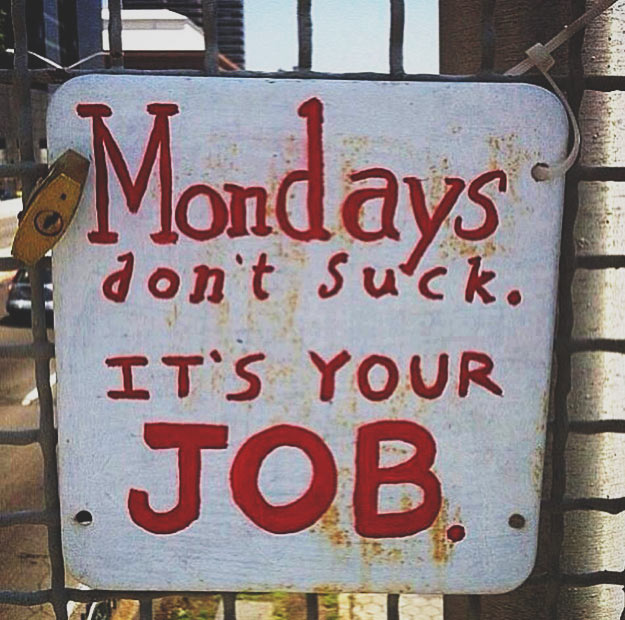 Monday wishes he was Wednesday. He has giant posters of Saturday on his bedroom wall. Everybody turns the other way when they see Monday walking down the hall.
Poor Monday.
I used to suffer from a condition known as Sunday Night Dread, that sinking feeling you get when the freedom of the weekend is gasping its last breath. I used to think Monday was the worst.
And then I realized that Monday is just a patsy.
It's convenient to throw Monday under the bus when we're unhappy about how our story is going. I propose that we quit picking on Monday and try a different tack. Here are a few options.
1) Change your job.
LIfe is too short to be stuck in a job you hate, or even one you only kind of like. Find one that makes you excited to get up in the morning, eager to share your gifts and tackle the challenges in front of you. Of course, this is not something you can magically wave a magic wand to achieve. It's not recommended to up and quit a crappy job without a plan, for in almost all cases, a crappy job is better than no job. What you CAN do is make a plan. Figure out what might be a better fit, and start taking baby steps to get there. It might involve taking some night classes. Or getting up an hour early to send out resumes. Or building that website for your new part-time business. The Mondays in your immediate future may not be too appealing, but at least you'll know you're not resigned to a lifetime of them.
2) Change your attitude.
There is no perfect job. Even though I don't dread Mondays anymore, not every part of my job is peachy keen. But I focus on the good stuff, which far outweighs the bad stuff. If you are honestly in a job that is a good fit for you and that you actually enjoy — but still dislike Mondays — perhaps you can try on a new perspective. List out all of the things you love about your job and focus on those instead of the negatives.
If you're bored with your current job, maybe it's time to initiate a new project that excites you. It will give you a new spark and sense of purpose (and will probably impress your boss.)
Getting your story to the point where Mondays don't suck is not easy. But it is doable. It just takes a bit of honesty, a plan, some hard work, and maybe a new attitude, all of which are things you can do, starting today.
Monday has been bullied enough, don't you think?