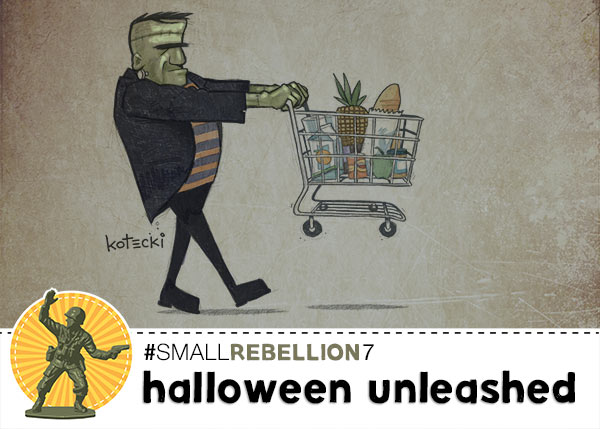 Halloween is exciting for kids and adults, too;
Dressing in costume: a thing we all love to do.

But why settle for parties or just Trick or Treat?
What if you wore one when you went out to eat?

Perhaps shopping for groceries or driving car pool;
Or serving on jury duty would even be cool.

Or maybe while getting your vision corrected;
Just wear your costume somewhere unexpected.

Adultitis won't like it and people might stare;
The rebellion is knowing that you just don't care.
Halloween is the best. I love that it's free of the obligatory gift-buying and mountains of stress that usually accompany the other major holidays. Halloween is pretty much just about fun. And zombies.
I also love that although Trick or Treating is still a domain of childhood and rambunctious teenagers, it's not uncommon for grown-ups to get in on the costume-wearing fun. However, most of us over the age of twenty usually require a bit of "costume cover." You know, that socially acceptable event or occasion where it's "appropriate" to dress up.
But what if you dressed up in costume for a dinner out with your sweetheart? Or for your weekly trip to the supermarket? Or for jury duty?
This premise is what has inspired our latest "officially-sanctioned" Small Rebellion. It's called "Halloween Unleashed," and the challenge is this:
The MISSION: Wear a Halloween costume somewhere that's unexpected. Bonus points if you get a picture and share it online with the hashtag #smallrebellion7
You can include friends or family — in fact, that makes it more fun and will help increase your bravery! — but wearing a costume to the office-sanctioned Halloween party or to take your kids trick-or-treating (although awesome!) is not what we're going for.
This is your chance to expand some boundaries and send chills down the spine of Adultitis!
(Click here for inspiration.)