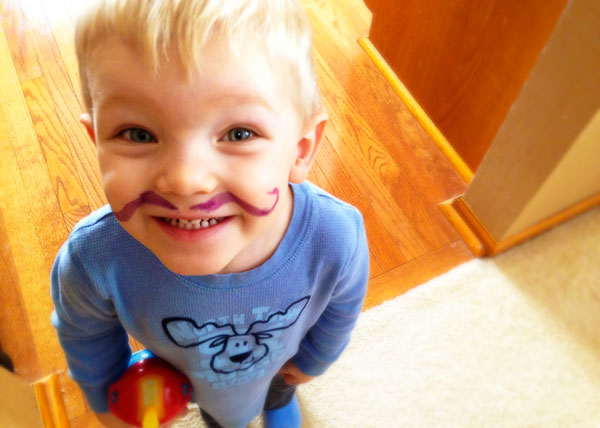 Adultitis was kicking our butt.
It had been exactly a month since Virginia Rose was born. A good month, to be sure, but also a long one. Weary of the bitter cold weather, our entire family was tired of being cooped up, and the older two kids were passing time by pushing our buttons. Two-year-old Ben had a streak of purple under his nose, a colorful souvenir from "smelling" the markers we used to keep him quiet. Although we pined for an afternoon at a Florida beach, it was decided that going out to lunch was the best we could hope for today.
As I went to wipe the marker from Ben's face, Kim made some comment about him looking a bit like Hitler. Then she said, "I wish we could just draw mustaches on our kids, wouldn't that be awesome?"
"It would be," I agreed.
"Why don't we?" she asked.
I could tell by her tone that she was kind of serious. And so I paused to ponder a serious response.
"Because of what other people might think," I answered.
Before I even finished the sentence, I knew what I had to do.
"Give me that purple marker," I said. After glancing to confirm it was the washable variety, I removed the cap and called Ben over. Then I drew a bold and curly mustache on my son. Although he cooperated, it's fair to say he had no idea what I was doing.
"Ok." I proclaimed. "NOW, let's go to lunch.
And we did, with our purple mustachioed son in tow.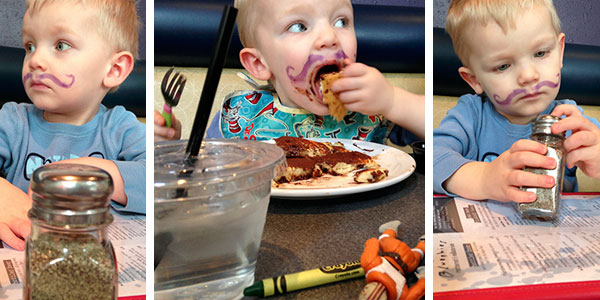 It did garner some attention. No calls from DCFS, as Adultitis had warned. Instead, the people who noticed universally responded with smiles of delight at my oblivious son who looked like a tiny ringleader in a circus sponsored by Willy Wonka. And it was awesome.
Here's a tip: If you are faced with an opportunity to do something, and the only reason you don't is because of what someone else might think, you can be certain that Adultitis is up to no good. If you are serious about winning this war, and you are desirous of living an amazing story, you must do that very thing, without hesitation. You must.
Family with spring fever and three kids, five and under: 1, Adultitis: 0.
Share a time when YOU did something fun without regard to what other people might think. Leave a comment below!