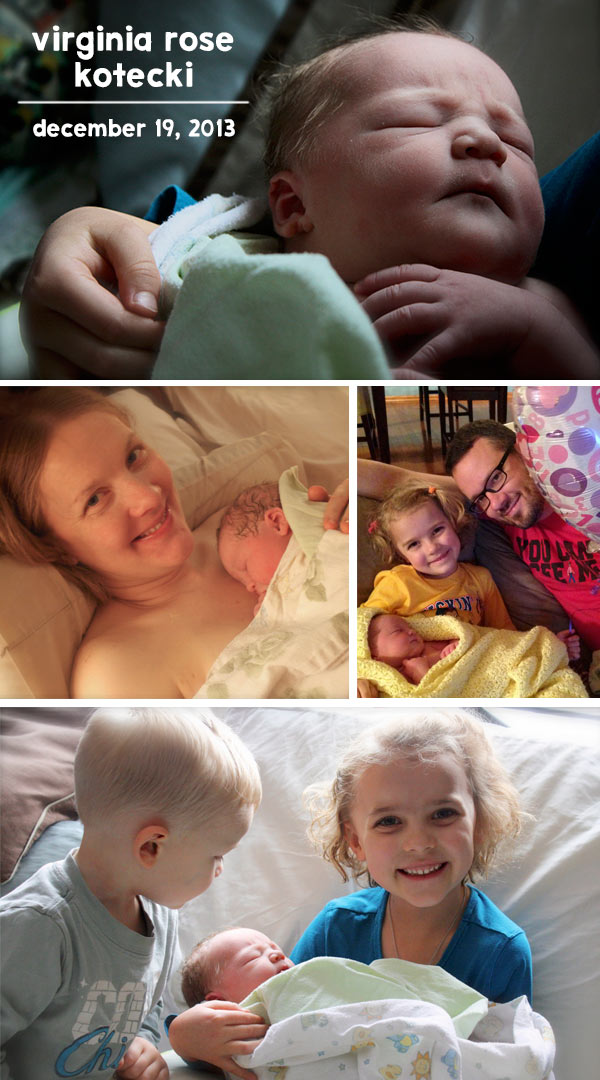 Season's greetings!
I am happy to anounce that a new little Adultitis-fighter has joined our family. Her name is Virginia Rose, and she arrived at 2:39 am on December 19, just in time for Christmas. Ginny was born at home and interestingly, she was born "en caul," which means she was actually born in her bag of waters, which is somewhat rare. Depending on what you Google, it is generally regarded as a sign of good luck (or an omen that she will grow up to be a vampire.)
At 8 pounds, 15 ounces, Ginny weighed in a little over big sister Lucy but under big brother Ben, who was 10 pounds, 4 ounces. Speaking of the siblings, Ben and Lucy are both excited about their new sister. Lucy is thrilled that her prayers for a sister were answered!
Both Mom and baby are doing great, and I am busy holding down the fort. It's a good kind of tired, and we love having babies this time of year: warm and bundled up inside under the glow of twinkling Christmas lights.
There's a good chance that Kim will be writing up a blog with more of her thoughts, but I wanted to share the good news with all of you. (More photos here.)
Happy Holidays to you and your family!
What's something awesome you're grateful for this week?