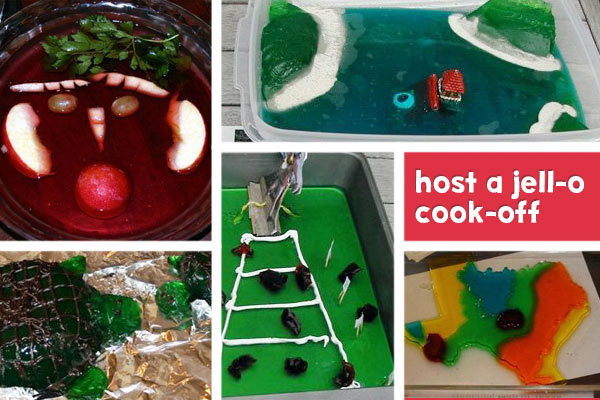 What do you get when you mix geology students and Jell-O? Amazing Adultitis-fighting fun to inspire us all!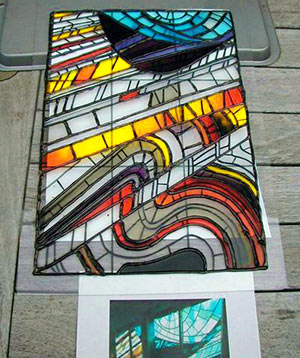 When Meredith Rhodes Carson was studying geology at the University of Wisconsin in Madison, one of the highlights was the annual Jell-O Cook-Off in which contestants created geologically-inspired, gelatin-infused masterpieces. The photo at right is a copy of a stained glass window in Weeks Hall on campus. Some of the categories included: Tallest Jell-O, Best Representation of a Faculty Member, Most Wisconsin (one winning entry was actually made with beer), and Most Aerodynamic. (One infamous entry, a drumlin-shaped Jell-O with Rice Krispies in it, was launched off of the balcony of Weeks Hall FOUR times before complete destruction.) The only real rules was that entries had to be primarily Jell-O, not necessarily edible.
We strongly advocate the making of ugly cakes and cookies; why not bring Jell-O into the mix?
In talking to Meredith after one of my presentations, I was fascinated by her scientific knowledge of Jell-O. Or at least what you need to know to compete in a cook-off at a high level! Since I figured you might find yourself inspired to instigate a Jell-O Cook-Off of your own, I've asked Meredith to share some of her best tips for creating works of art in the medium of Jell-O:
Pro-tips for Jell-O Cook Off Newbies
Knox Gelatin – It is important to fortify your Jell-O for advanced Jell-O structures.
Carving Jell-O is slightly easier if you dip your knife in pineapple juice.
Consider a 'Jell-O displacement' technique to create complex multi-colored Jell-O. This requires that you start your Jell-O art days in advance. For example, to construct a cylindrical shape – fill your container with Jell-O and then float a cylindrical object in so that when the Jell-O solidifies, you can remove the cylinder, and fill that space with another color of Jell-O.
You can use a straw to remove select bits of Jell-O from your creation… just suck the Jell-O out.
Do not attempt to create a Jell-O aquarium scene in a 20 gallon fish tank using the shell of a lobster that may or may not still have salt water in it. Salt water and Jell-O don't mix, your Jell-O will not set…AND your giant-unsolidified-blue-Jell-O-filled-fish-tank may just break in your refrigerator.
You can make a spectacular Jell-O volcano eruption using baking soda and vinegar.
Consider using light in your Jell-O design. One winning entry was an x-ray of a particular geologist's shoulder to show the results of a recent surgery – the Jell-O x-ray was crafted in a 9×13" glass baking dish, presented on top of a light table for full effect.
If black plastic spider rings don't seem authentic enough in your Jell-O bug amber, a good approach is to harvest spider corpses from your garage to put your creation over the top.
Heavy duty aluminum foil can make a fine custom mold.
Take Jell-O project management seriously, giant charts may be required to make your vision a reality. Start early.
Here are some impressive samples from the original cook-offs. Thanks for sharing, Meredith!