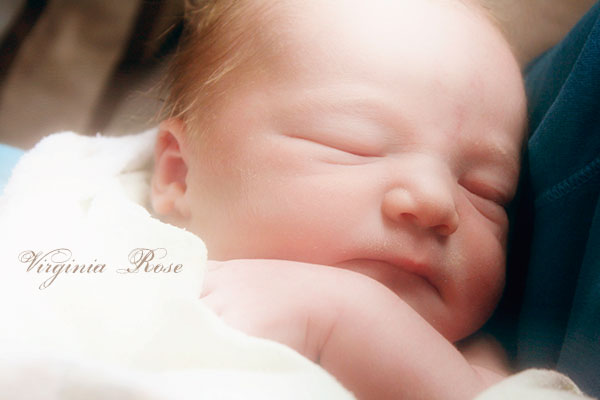 Jason and I are officially outnumbered! It has been a wonderful blessing getting to know our little Ginny Rose these last three months. I'd be lying if I said it's been all rainbows and lollipops. Sleep deprivation combined with the winter blues is a bad combination. I'll admit to having Googled at one point, "How do you know if your baby has colic?" The biggest disadvantage little Ginny had coming into this family is that she followed Ben, who was officially declared "The Most Chill Baby of 2012." Seriously though, Jason and I agree that he probably cried a total of an hour during his first year of life. Ginny is more "normal," I believe.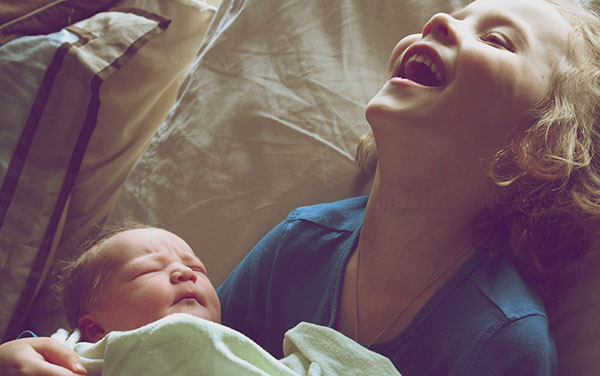 The biggest joys come from watching Lucy and Ben eat her up with love and affection. Lucy's prayers of having a little sister were answered and she is 110% smitten. Ben took a little longer to warm up. He thought she was nice, but she did bump him into middle child status. Needless to say, "DaddyBen" was a real person the first month after Ginny's arrival. Ben did not leave his father's lap for the entire month! Poor Jason was dealing with a postpartum wife (with a cold), a newborn, AND a two-year-old who would not leave his side. I have an AWESOME husband who is also the most wonderfully patient and loving Dad!
When we posted the story of Ben's home birth two years ago, I was surprised how many birth junkies we have out there. The story of Ginny's birth is a really neat one which I am honored to share…
The end of the third trimester was especially challenging on a number of levels this time around. I carry babies right out there. Simply put: my belly gets HUGE! Everyone asks if I'm having twins. It's quite taxing on my femur heads/hips/back. Luckily, my unbelievable awesome miracle worker chiropractor was agreeable to becoming my new best friend again for this pregnancy, so I was able to pick Ben up and be mobile almost until the very end.
Knowing Jason and I were both taking time off from work for the baby's arrival and maternity/paternity leave, Jason and I had decided to say yes to a few speaking engagements in the fall that would normally have been no's due to crazy scheduling. His last week on stage before the break included a very insane run of four gigs in five days (including two on the same day in different states). This meant I was home with our two kidlets and one VERY large immobilizing belly. It wasn't always pretty, but we got through it one day at a time and with the generous support of some very dear friends and family. When you're in a state of complete dependence, humility and gratitude teach you a lot.
Sick and Tired
Then we got sick. Oh my, it was BAD. A very nasty cold virus entered our home which hit Lucy and Ben first, then I got it. We all prayed and prayed that Jason would stay clear, even though it seemed impossible that he would manage to escape it. Our prayers were answered and although he was on the verge, he was able to stay on the up and up, giving him the energy to do all of his final gigs AND take care of all of us – a very tall order!
I was sick for ten straight days prior to the birth. A nasty, persistent dry cough that made sleep even more difficult than it already was at that stage, combined with the most extreme sore throat I've ever experienced (knives!). When I wasn't trying to get Lucy to take her medicine (one of our most frustrating parenting challenges to boot), I was drinking Emergen-C, sucking cough drops, doing my neti pot (LOVE!), eating oranges, trying to rest and praying to feel better (while also caring for the sick kiddos). It was a LONG ten days and with each passing day I secretly grew more and more anxious that I would be sick for this baby's big debut, potentially making our dream for another successful home birth impossible. It was a period of extreme emotions (the hormones were on overdrive)! My heart was set on another home delivery. Would it be possible?
During one of my many late night insomnia sessions, I Googled on my iPhone: "sick during labor." Unlike most Google finds, I was relieved at what I found! A handful of people had said that although they were sick leading up to the birth, when contractions started their symptoms let up and in some cases disappeared and they were able to get through the marathon of child birth just fine. This gave me hope and something to vision. My heart and head got busy mustering up image after image of this very scenario. Just like my past two experiences with natural child birth, this gave me yet another opportunity to place my complete trust in my body and my creator – another huge lesson in humility and gratitude.
Ready, Set… Wait
Only seven days until Christmas and I woke up with some physical signs that things were warming up. Yay! Similar to the day Ben was born, this was such a gift. It allowed Jason and I the mental preparation and time to start really nesting. I made sure the kiddos' bags were packed. We both started cleaning and decluttering toys and bills. I even went to my chiropractor for one last prenatal adjustment. It all felt good!
Again, similar to Ben's birth day, about mid-afternoon contractions started slow. Although totally random, they were enough to indicate that we might have an eventful evening, so we said our goodbyes to Lucy and Ben and soon it was just Jason and I in our abnormally quiet house. I was still not feeling well, coughing constantly, but I felt confident that it would all work out fine, that God would provide me the strength I needed. Lots of people were praying and I could feel their prayers filling my heart with peace and joyful anticipation.
I tried to rest and was curious how long the randomness of the contractions would last, as they were totally all over the place. I texted back and forth with Mary our midwife around 9PM and we both agreed I should head to bed and let my body tell me things were getting more organized. We both knew I needed the rest to gear up for what was next.
Fast and Furious
To my relief, I fell asleep for a couple of hours. In retrospect, this was a HUGE gift. I woke up around 12:15AM and decided I should get up and pay attention to the frequency of the contractions, since they seemed to be getting closer. I called Mary and we both decided to just wait and see, as they weren't close enough just yet.
The next hour proved to be VERY eventful. As I laid in our bed it was only 30 minutes later and things were really picking up, both the frequency and intensity of the contractions. I called Mary and she said she'd pick up Nichole and be right over.
Then, almost like hitting a light switch – BOOM – I was in active labor! After a VERY hard contraction, I said to Jason, "These are deep, J. Intense! I feel like they are making A LOT of progress." Another strong contraction, followed by another. After a couple of these, I asked Jason (who was putting the self-adhesive plastic on the carpet around our bed) to grab my hand and stay by my side.
Holy cow!
This.Was.Happening.NOW.
And Jason and I BOTH realized that it was – with or without our midwives.
I had echoes of Mary's words in my head… babies that come fast and furious are typically healthy and the births are uneventful. Let's do this!
Next challenge… I was fully dressed. Yikes! You can't have a baby with your pants on! Jason and I knew that we had to get my clothes off pronto. He suggested we do it after the next contraction (which were now coming much less than a minute apart). No, we needed to get them off of me RIGHT now! Having the experiences from Lucy and Ben's birth, we both knew that my reactions to each contraction was mirroring the final stretch – the pressure was deep and the baby was close. Almost like Steve Irwin with a crazy crock, Jason managed to wrestle my big belly and soon the clothes were thrown across the room.
Next, the bed… Even though there were two layers of plastic under the sheets in preparation for this very night, I was lying on a memory foam topper that we had borrowed from a friend, which we had fully planned on taking off when labor started. Jason suggested that we get it out from under me.
"I'm not moving," I said. "I'm in lock down."
There was no way I could find a way to get my body off of that mattress. So, being the efficient guy that he is, Jason calmly started grabbing old towels and put them underneath me to protect the memory foam.
Jason was a complete rockstar during this highly intense time. He was not stressed. He responded quickly and confidently to each new challenge. I knew I was in strong, capable hands.
Meanwhile, we were nearing showtime and we both knew it. Jason held my hand tight as I clung to him during the VERY crazy powerful – and final – contractions. My body was starting to push. Then, I saw him grab his phone, "I'm gonna check to see where Mary and Nichole are." They were pulling into the neighborhood. I overheard Mary ask him what was happening. I remember anxiously waiting to hear his response, curious about what he'd say. Up to this point, most of our communication was instinctual and non-verbal. He calmly assured them that the baby was almost here. Jason let go of my hand and moved down to catch. The baby's head was out.
Yep, it was just me and Jason and the baby's head!
It all felt quite natural and honestly, fear wasn't even a small part of all that was happening so quickly. Just then, we heard the front door. Mary and Nichole quickly (and notably calmly) came in and Nichole quietly and gently joined Jason at the foot of the bed. Two quick pushes later… and I was holding our healthy baby girl.
Mary and Nichole arrived just two minutes before she was born. Their entrance was like that of two beautiful angels arriving for the entry of a special soul.
What Just Happened?!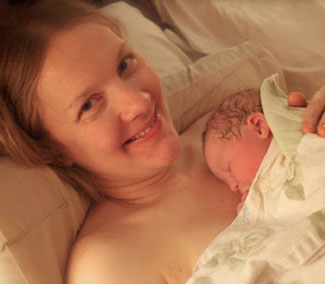 Whew! Jason and I were in shock, to say the least. Granted, it was a good shock. I joked that at least they wouldn't have to put the tub up. There were lots of little jokes and giggles as we recalled all of the happenings of the last 90 minutes. We told them about my "lock down" comment and Jason's quick and ultimately successful efforts to save the memory foam. We also acknowledged that my cold symptoms were GONE. Just like I had read about, they had disappeared as the contractions started picking up. (Later to arrive back with a vengeance for the next several challenging days.)
Jason and Nichole chatted about the head. He was wondering why it looked purple when it had come out. What was that about?! Nichole excitedly shared that our baby girl was born en caul, in her bag of waters. It had not broken, Nichole gently tore it open after her delivery. WOW! This is rare and wonderful, later we learned that it occurs in fewer than 1 in 80,000 births, is a sign of good luck and many people believe that these births hold special significance for the child born in this way.
We now joke that she wanted to be like her older brother and sister and have a water birth, too!
New Name
All was calm. Mary and Nichole went to the living room to give us some time, just the three of us. In this peaceful moment, soft Christmas music played in the background. Jason and I laid on the bed under the string of Christmas lights with our youngest daughter – in total awe! We were recognizing that, indeed, this child was quite a "coyote," as Mary puts it — the unpredictable third child. With all of the spontaneousness of her entry into this world, Jason and I were feeling the spirit of spontaneity as we talked about her name.
Up to this point, we had confidently planned to name her the girl name that we had originally picked out for the last pregnancy, Hattie Rose. We both loved the name Hattie (inspired from a character on one of our favorite shows Parenthood). Rose was my paternal grandmother's name. Both Jason and I knew her well, as she had only passed away a few years ago. In fact, Jason gave the eulogy at her funeral.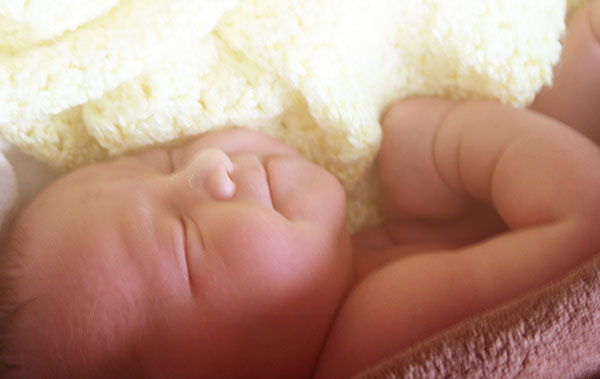 Earlier in the day, Jason woke from his power nap and said that the name Virginia had popped up in his thoughts, maybe even a dream, he wasn't quite sure. I was open to it, but not convinced. We had considered this name somewhat briefly when Lucy was born. Virginia was the name of Jason's paternal grandmother who had passed away over 20 years ago. She was a talented artist and Jason has treasured memories of her. Little did we know that the quick and recent exchange about her name would re-plant the seed and it had taken root.
Here we were at 3AM, just six days from Christmas, deciding on our new little one's name. Less than 11 months earlier Jason and I had read a special book with our best friends about the Virgin Mary and her desire for our obedience and love for her son. The book was a big deal to the four of us spiritually. When we found out we were pregnant in the spring, we both felt like Mary had something to do with this little coyote baby that had found her way into our open arms.
Jason said it was my choice. I wasn't 100% convinced, to be honest, but without hesitation and to our surprise, we confidently told Mary and Nichole that her name was Virginia Rose.
I felt like this name was given to her. We later found out that those born en caul are often referred to as being born behind "The Veil," as the caul is also referred to as The Veil in many cultures due to it being a face covering. Her name was meant to be! The connections continue to give us chills… Virginia – virgins – veils – Virgin Mary – Christmastime. Virgin Mary also has a special connection to roses. Then, the simple fact that her name is the combination of both of our paternal grandmothers. It all fit so perfectly!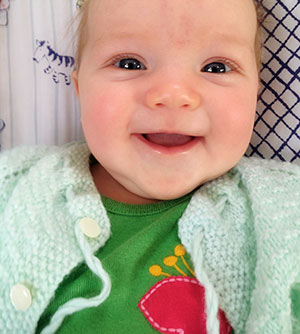 Officially a family of five, it's with complete humility and much gratitude that we honor the obvious fact that Virginia Rose has a very special role to play in our family. We feel so blessed by the safe, healthy and adventurous birth of Ginny Rose. And, of course, as with the birth of any little baby, we know the real adventure is just beginning.
P.S. A very special thank you to two amazingly empowering and encouraging women, Mary and Nichole from Strong Work Home Birth. I feel eternally grateful for the gift of your loving support and care. You help women believe in the amazing gift of strength that lies within and the wonderous process of pregnancy and childbirth. Your gift of self continues to give generously well past prenatal care and delivery! Thank you!!