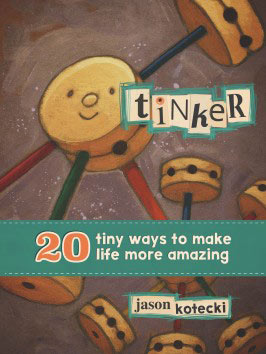 Our lives are stories. Sometimes living a better story requires making a big, hairy, scary change. Like moving across the country or taking a huge pay cut to do what you love. But most of the time we just need to be open to the art of tinkering.
I am super excited to announce a fun side project I'd been working on for an exciting new company called Snippet. They are doing some cool things in the publishing arena and have built a platform with tools that encourage writers to engage and delight their readers with a beautiful, connected experience.
The first of what I hope will be many collaborations with them is a Snippet about tinkering. It features 20 simple ideas – small experiments, if you will – that will get you thinking in new ways and get your story moving in exciting new directions. It also contains lots of interactive "discoverables" like video, photo slideshows and conversations on social media.
I love how it turned out; it's super cool. And it's only $1.99.
If you're serious about improving your story, you should get serious about tinkering. Download it here.