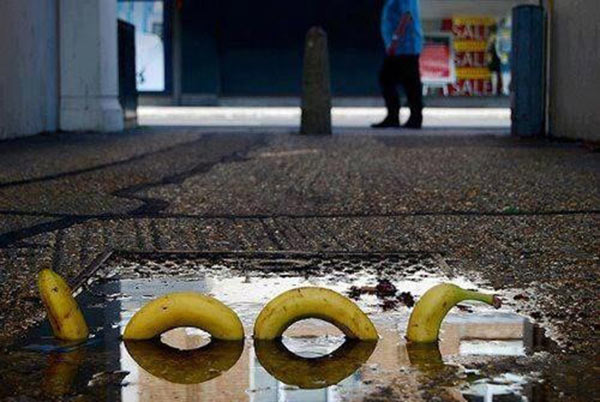 • Found this neat post by Innocent that showcases some fun ways to play with bananas. Don't miss the drop dead easy way to turn your banana into a penguin!
• From Colossal: "If you're afraid of heights, caves, the dark, suffer from claustrophobia or vertigo, this might not be for you, but if not, a small Welsh town has the perfect subterranean adventure for you: the world's largest underground trampoline."
• This Never Ending Slinky machine is pretty cool. And now a live project on Kickstarter. Just ordered the black one!
• This "Play" Text Terrarium sculpture is super pricey, but super awesome, too! They also have more affordable hashtag and "@ garden" versions available.
• Did you know that Steven Spielberg was actually going to use stop-motion to animate the dinosaurs for his film Jurassic Park? It was a no-brainer, especially since he had Phil Tippett, the master puppeteer who was responsible for bringing many of the Star Wars creatures to life. But then some rebels at Industrial Light & Magic who lived by the motto "Always question the established system" did some covert experimenting and the results ended up changing Jurassic Park — and movies — forever. "I love the term 'you will never,'" said Steve "Spaz" Williams. "If I had listened to 'you will never, the T-Rex never would have been built." Here's a neat short film that tells the story:
Finally, some posts from around here you may have missed:
• Must Be Nice
• The most rewarding (and humbling) day of my career
• What my daughter taught me about being weird