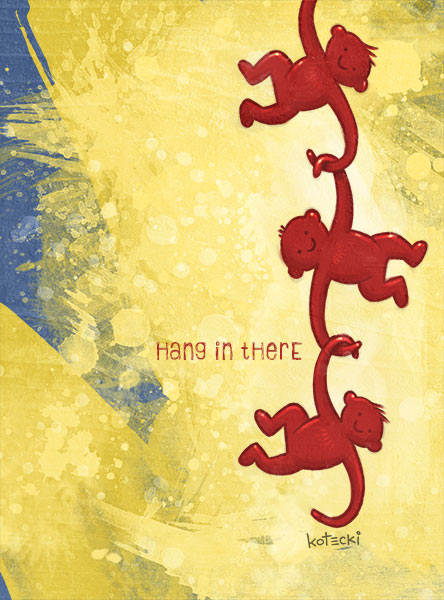 Sometimes I look at my kids and see beauty. I marvel at the sparkle in their eyes and the sweetness of their smiles. I am overwhelmed by gratitude and joy, awestruck by how amazing they are, and humbled to be entrusted with their wellbeing.
Other times I seriously consider the ramifications of dropping them off at the mall and driving to Miami, never to return. I have lamented the fact that were I to launch myself through a window of my home, none of them are far enough from the ground to cause fatal damage. More times than not, I am flabbergasted by how frustrating parenting can be.
I worry that word will get out that I struggle with Adultitis just like everyone else. That my life is not a Pinterest board come to life. That living in our house is nothing like living in Willy Wonka's chocolate factory.
I wonder what I'm doing wrong.
I suppose the reason I think I'm doing anything wrong at all is that I live in a society that preaches comfort and convenience. We are an impatient lot, what with the answer to seemingly every problem a click away. To struggle is to sin if you've got an easy solution available for just $19.99.
We've been sold on the idea that life should be easy, and if it's not, we're doing it wrong.
What a crock.
You know what's easy? Doing what everyone else is doing. Giving up at the first sign of adversity. Abandoning a marriage instead of doing the messy work of making it better. Drinking or eating or flushing our problems away when the consequences of our actions become too hard. Abdicating our parental responsibilities to someone else. Living by rules that don't exist.
Know what's hard? Being intentional about every choice you make. Asking tough questions. Saying no to good things so you can say yes to better things, even if that means disappointing people. Staying in the moment with the people you love. Not rushing off to chase the next big thing. Being persistent after the first, second, and seventy-seventh failure. Breaking the rules that don't exist.
It's not a bad thing to strive to improve our circumstances in life, but it's in the struggle where we grow. It's a sign that we're alive, actively engaged in our story.
Doing parenting (and life, for that matter) WRONG is as easy as it gets.
Doing it RIGHT just might be the hardest job on the face of the earth.
Taking the easy route is by far the most comfortable. It also leads to a story that really sucks. And the worst part is that you often don't realize it until the end credits start to roll.
No one's life is as good as the one they curate on Facebook. No one spends all their free time doing all the cool stuff they see on Pinterest. No one has it all figured out.
But the ones who are living amazing stories are the ones who are brave enough to persist through the struggle. To practice being more patient and intentional and brave and fun and loving, even when they just failed at all five in the last seven minutes.
Be the one who refuses to settle for a safe and easy life. Living a great story is hard as hell.
And worth every bit of the effort.