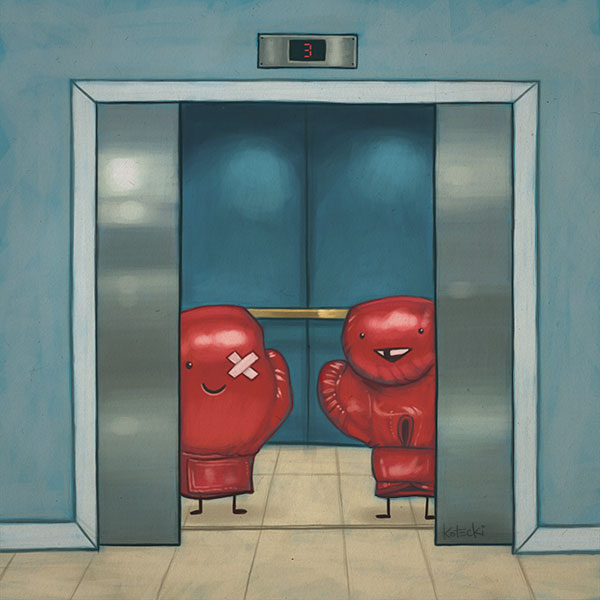 Willy Wonka's glass elevator was an Adultitis Antidote. How many elevators can you say that about?
With all due respect to Aerosmith, elevators are not usually bastions of fun. They are awkward little boxes in which everyone stares blankly at the floor numbers, tightens the sphincter, and puts on their best grown-up face while staring straight ahead. It's the equivalent of entering a walk-in closet with random strangers and closing the door.
But taking a page out of Mr. Wonka's book is not that hard.
My friend Dan plays a game called Elevator Fight Club with his kids. When they are in an elevator together, after the doors close, they begin a fake boxing match with each other. The action stops as soon as the doors re-open. Dan has reported that it's not uncommon for the fight to resume quietly even when someone else is with them. And of course, the first rule of Elevator Fight Club is that you do not talk about Elevator Fight Club, so I've already said too much.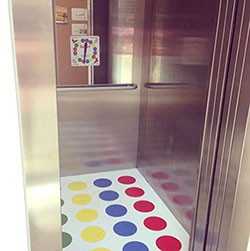 Innocent, a UK-based maker of fruit juices and smoothies, installed a Twister game in their elevator. How awesome is that? I suspect it is nearly impossible to walk into that elevator and not smile. Which is actually the genius of it. Full-blown human knots don't have to result for an idea like this to reap benefits. Even if no one actually plays the game, just the fact that it's there makes the company more buzz worthy, and a more fun place to work.
Some people report that they sometimes face the back of the elevator while everyone else is facing forward. I'll admit that I'm not brave enough to try that, but I'm sure it makes Adultitis very uncomfortable.
Adultitis dominates certain locations in this world, and there is no doubt the elevator is one of them. If you ask me, it's a perfect place for a full-on assault against this vile enemy.
What are YOUR favorite ways to have fun in an elevator?