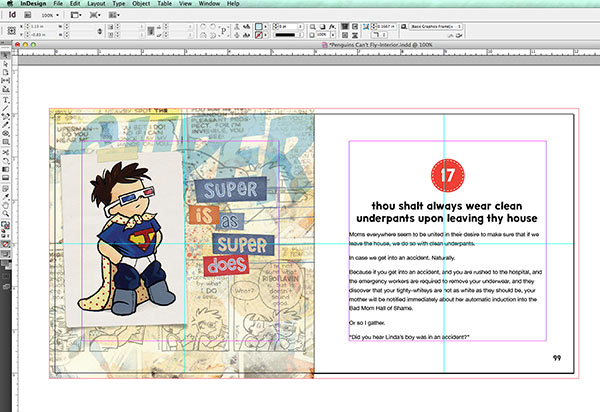 There's some big news to report on the book front.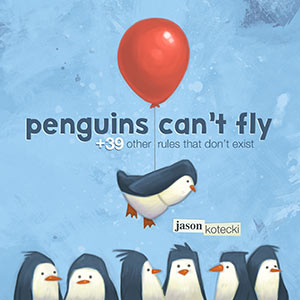 I have learned that Penguins Can't Fly +39 Other Rules That Don't Exist will officially be published on June 23, 2015. (That's the cover right there!) It will be published as paper-over-board, which is basically a hardcover book without the dust jacket. And it will cost $16.99. It was originally going to be $14.99, but after doing a more thorough cost estimate, St. Martin's Press decided to raise the price rather than cut corners on quality. They are really committed to making a beautiful book, which I couldn't be happier about.
The manuscript is complete, surviving several rounds of edits and proofreading. I have been busy finishing up the art and layout of the book. In the world of traditional publishing, it's incredibly rare for a single person to be responsible for the writing, the illustration, AND the layout of the entire book. It is a privilege I am incredibly grateful for.
As I've been building the book in Adobe InDesign, it's become clear that in many ways, this book is my magnum opus. Especially at this point of my my career. When the book is officially realized, Kim and I will have been at this for exactly fifteen years, one month, and three days. It's been a long road. This book has artwork that's literally fifteen years old (I did that painting of Super J up there in 2000) as well as some that's about fifteen minutes old. It's the culmination of fifteen years of excruciating lows, amazing epiphanies, best practices, stories collected, jokes refined, and profound lessons learned, packaged in all its full-color glory.
It's got humor and insight and hope. Quite simply, it's my heart and soul on display.
And it feels like the final exam of a class that was thirty semesters long.
It also feels like it's the end of a long beginning and a beginning of something even better.
I can't wait to share it with you.