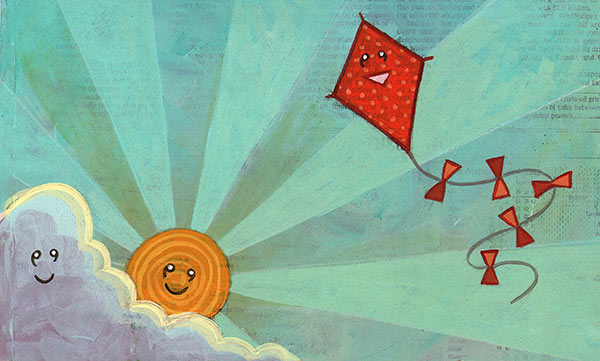 The other day was really good. Nothing earth-shattering occurred, but it ended up just being really wonderful. After a decent night's sleep, I made a breakfast of eggs, sausage and cinnamon rolls. Then we all headed to the local Apple Store to see if the wifi on my phone was broken. It was, and out of warranty, to boot. (Not great.) We decided to upgrade and order new phones (Super great!) After chowing down on that new bacon stuffed crust pizza at Pizza Hut, we drove home and Kim and I enjoyed some peace and quiet in the yard while the kids napped. Afterwards, we took advantage of the wind and did some kite flying. Then I threw some pork chops on the grill for dinner. After a quiet evening reading books to the kids, Kim and I watched an episode of The Blacklist after the kids went down.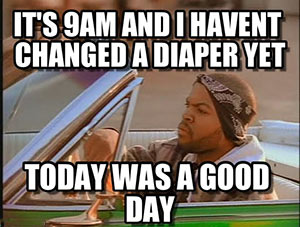 As my head hit the pillow that night, I could almost hear Ice Cube singing, "Today was a good day."
It got me thinking about good days, and how groundbreaking things don't necessarily have to happen for a day to be labeled as good. It got me wondering if there was a way to increase the regularity of good days in one's life, which reminded me of an article by Noah Kagan, called Hacking Your Best Day Ever.
The premise is to keep track of the things that make the good days good, and then intentionally build them into your everyday.
If you have a great day, keep track of things that made it great. Or at least spend a little time at the end of each day thinking about your favorite part. Over time, you'll start to see some patterns.
Here are some of my favorite things:
Enjoying a big, leisurely breakfast.
Being out in nature.
Quiet time in prayer.
Playing with the kids.
Big chunk of uninterrupted time to work on art.
Engaging conversation with Kim.
Once you know what these things are, you are able to intentionally inject them into your day. There are no guarantees, but it does make the odds of having a good day drastically tilt in your favor.
And that's a game worth playing.
What are some of YOUR ingredients for a good day?