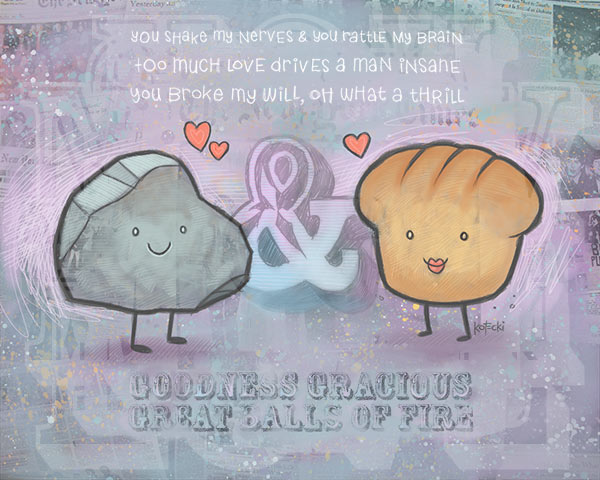 [ My book, Penguins Can't Fly +39 Other Rules That Don't Exist, is now available for pre-order! Here is one of my wife's favorite chapters. ]
It's an incontrovertible fact: It is impossible to hear Journey's "Don't Stop Believin'" while driving and not transform into a head-banging, lyric-belting, steering wheel-pounding god or goddess of rock 'n' roll.
In the cozy cocoon of your humble car, you are the Alpha and Omega of Awesome.
Your inner child is running naked in the rain and you don't care who knows it.
That is until Adultitis reminds you that you are at a stoplight and there are windows in your car.
Stupid Adultitis.
It convinces us that we'll look dumb or embarrass ourselves if we let loose a little bit. And so we don't. We stay tight in our safe, comfortable little catacombs, while stress and anxiety entomb us. Rock the boat? Not me. Call attention to ourselves? Not a chance.
Stupid, stupid Adultitis.
While we are buying into the rule about avoiding foolishness at all costs, we often fail to realize that our childlike outbursts might actually uplift someone and brighten their day. I don't know about you, but if I happen to catch someone summoning their inner Steve Perry, I smile.
What if instead of our traffic companions thinking we're a little loony, we were actually giving them some relief? Happiness? Hope?
My friend Ina was part of a micro-movement that invited people all over the world to send in videos of themselves car dancing. She had some provocative insights to share about her own involvement:
What I've found by being freer in my dance, is that it breaks down the walls between people. We live in a car society where everyone is cruising around in their own worlds, disconnected from everyone else. When you share the joy that comes out of you when you dance, you break through the barrier of the car shell, and you touch someone or make them smile and bring a human connection to their day.
Think about it: by giving yourself permission to car dance with reckless abandon, you've suddenly become an agent of social change at the wheel. You're Bono in a blue minivan, showing people it's okay to lighten up, stop taking life so seriously, and enjoy the moment. Maybe that person who pulled up next to you didn't know how they were going to pay their bills, but they saw you dancing, truly free, and in that moment, they felt relief. Or even happiness. Or perhaps the feeling that everything was going to be okay. THAT is powerful stuff!
Join me in an effort to be a little bit more willing to dance like no one else is watching—especially when people are.
Rock 'n' Roll has a long history of putting on benefit concerts to help solve big problems.
your car just became the latest venue.
[ Like this article? Pre-order Penguins Can't Fly +39 Other Rules That Don't Exist and get 39 more that are just as awesome! ]