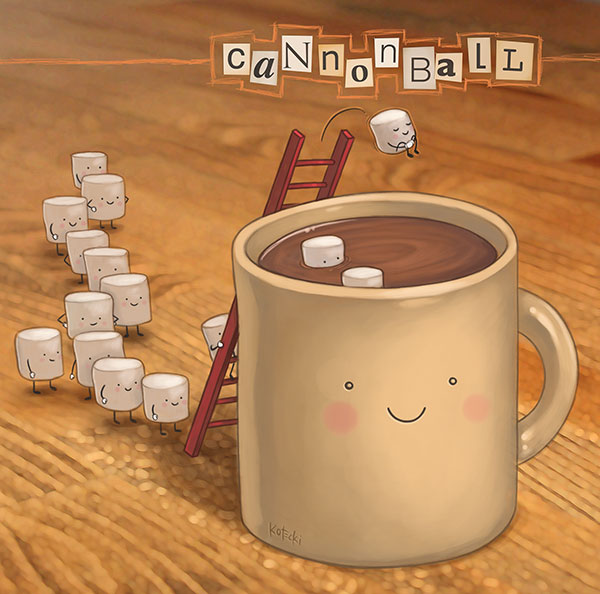 [ This is an excerpt from Penguins Can't Fly +39 Other Rules That Don't Exist, a beautiful and inspiring book that will help you uncover and break the so-called rules that could be holding you back from a life of awesome. Get it here! ]
Several years ago, Kim and I were hanging out at the Memorial Union on the University of Wisconsin campus in Madison. Overlooking Lake Mendota, it's the perfect place to sit in one of the trademark yellow, orange, or green chairs and people watch.
On this day, my eyes were drawn to a small family—Mom, Dad, and a little girl with pigtails—walking along the shoreline. The girl was a few yards ahead of her parents when she spotted a puddle, a remnant of the rainstorm that had drenched the city the day before.
Like the Millennium Falcon being pulled toward the Death Star by its powerful tractor beam, the girl was drawn to the pool of water.
Her intent was clear: She was going to get up close and personal with that puddle.
My first reaction was strong and immediate: "Nooooo!"
I don't remember how the parents reacted, but I was shocked at what my reaction said about me: I was officially a grown-up. The little girl's primal urge was to pounce through that puddle, while mine was to pull her away. No greater chasm exists than the space between those two extremes. There was a time when I was on her team, but at some point when I wasn't paying attention, I inadvertently switched sides.
Hoodwinked by Adultitis.
Most people do switch sides at some point in their life. I suspect it happens at different times for different people. Perhaps the moment is directly correlated to the time at which one becomes responsible for doing their own laundry. Or maybe a soul can only take so many stern rebukes and warnings to stay out of the rain and puddles.
I find it humorous that we grown-ups eagerly drench ourselves in long showers, immerse ourselves in tubs infused with bath oils with names like Lavender Rain, and spend hundreds of dollars to get soaked at super-size water parks, and yet we treat a simple puddle like a pool of hydrochloric acid and we run from the rain like the Wicked Witch of the West running for her life.
Like all rules that don't exist, this one is propped up by some pretty confusing logic.
Apparently a grown man can scream like a school girl while hurtling down a high water slide, but should he dance through a puddle like Gene Kelly, he gets labeled as crazy.
What's crazy is how we act when it does rain. We scurry from the store to our car like cockroaches who've just had the lights turned on. If we are without an umbrella, we desperately cover our heads with newspapers or flimsy pieces of plastic. We temporarily forget that wet clothes dry and mud washes out.
The fact is this: When you are an adult, there is nothing that makes you feel more foolish than getting soaked in the rain for no reason when a perfectly good shelter is only a few feet away.
But to a child, no sight is more foolish than a group of adults huddling under shelter when there is perfectly good rain to dance in only a few feet away.
Two sides. Two choices. Only one makes you feel more alive.
The cool thing about being an adult is that you get to pick.
It makes one wonder, are we truly living or are we just trying not to get our shoes wet?
[Gene Kelly — Singin' in the Rain]
[ This is an excerpt from Penguins Can't Fly +39 Other Rules That Don't Exist, a beautiful and inspiring book that will help you uncover and break the so-called rules that could be holding you back from a life of awesome. Get it here! ]