The Madison stop for the #Notarule Tour was held on Saturday, in conjunction with the beloved Art Fair on the Square, and it was a huge success! We originally wanted to hold it at the local zoo near the penguin exhibit, but like many zoos we ran in to, they weren't that interested. As fate would have it, the exact morning we got a thumbs down from the zoo is the same day we stumbled into the Dream Bank for the first time.
The Dream Bank is a neat community space sponsored by American Family Insurance. It's in an old, renovated bank, and they offer all kinds of free community programs, from small business seminars to Pinterest parties. It was love at first site, and we started a relationship that not only includes this Tour stop, but a bunch of presentations Kim and I will be putting on in the next year.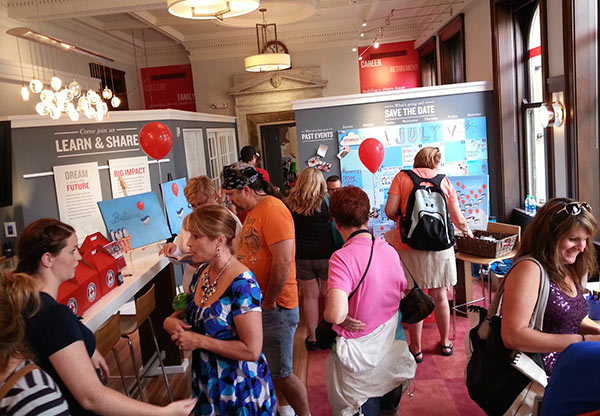 It was such a perfect space for our message, many people commented how they couldn't tell where their stuff ended and ours began.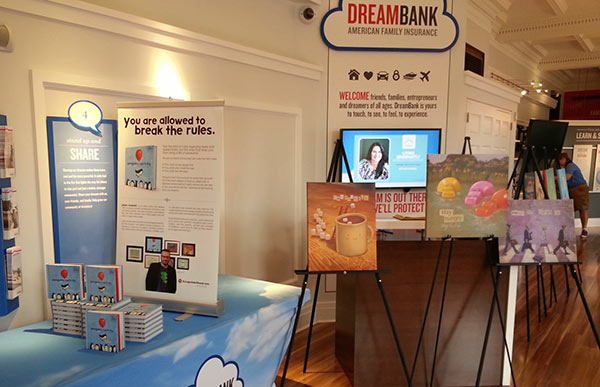 Taking advantage of Art Fair on the Square and the fact that my book is chock full of artwork, we made this event part art show, part book signing, part rule-breaking extravaganza.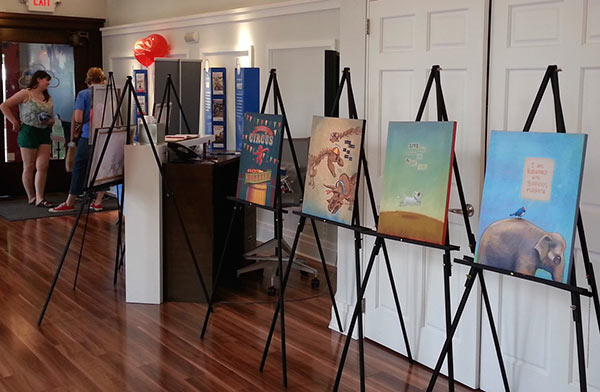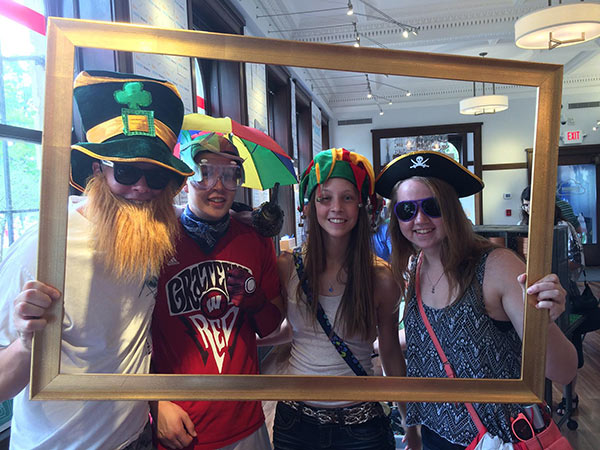 There were plenty of familiar faces and lots of new ones, as well. A lot of folks who stopped by saw the article in the Wisconsin State Journal or heard the interview on Wisconsin Public Radio.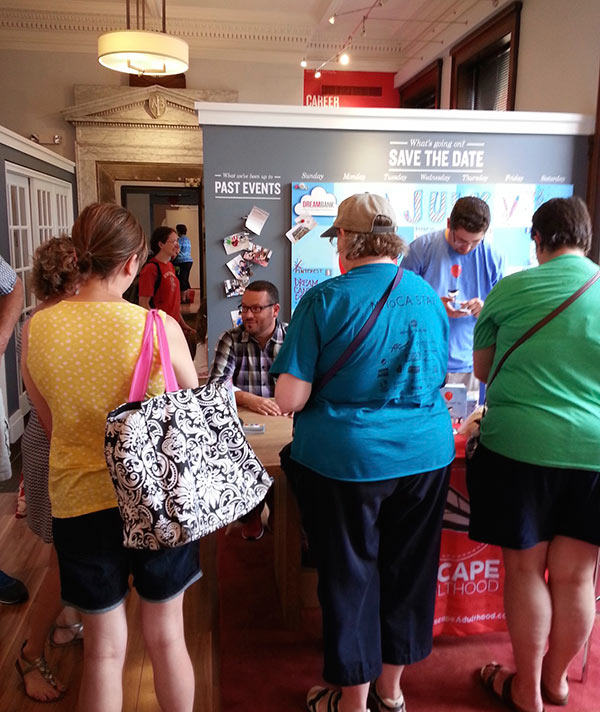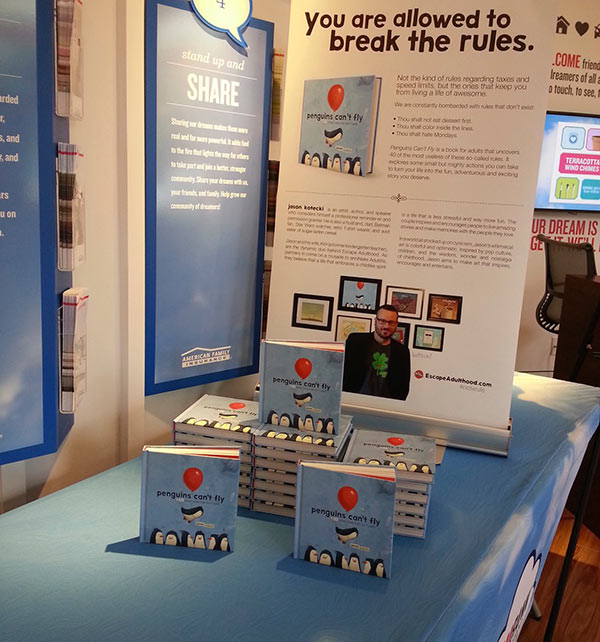 We were excited to have NBC show up to do a little feature that ended up on the 10:00 news (as seen above). The reporter came during the only real lull in activity, which worked out well, as it gave us a chance to talk without having to make too many people wait.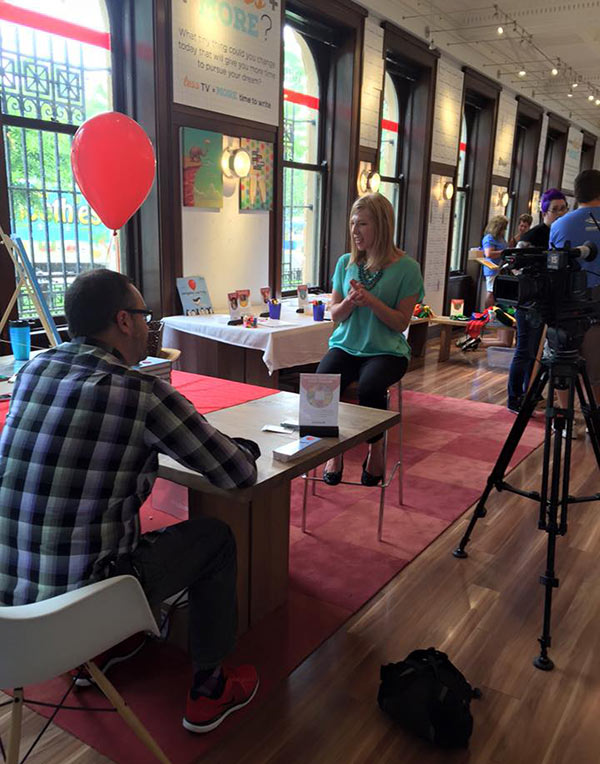 Of course, we had the ugly cookie decorating station: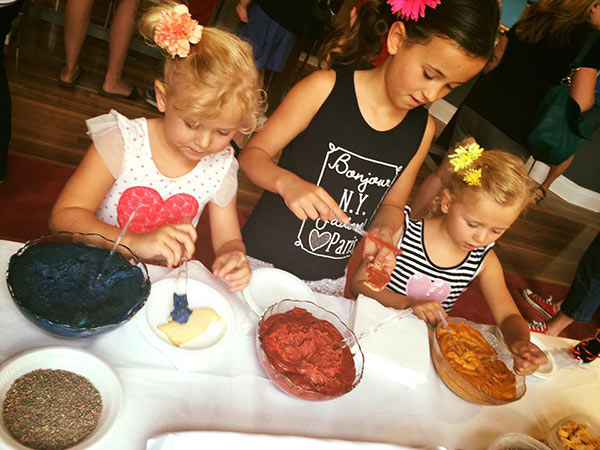 This is my friend Teresa. We've known each other since high school.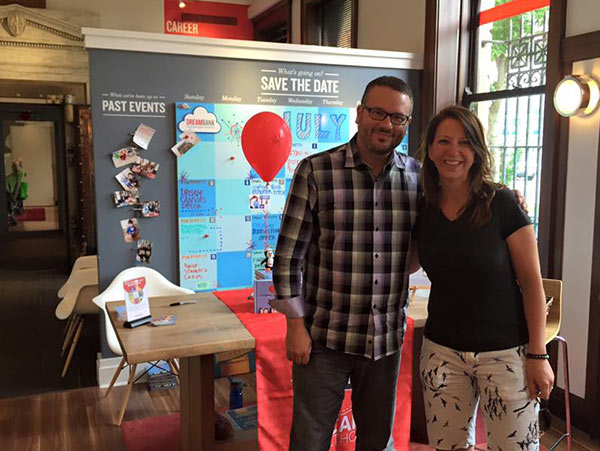 She is actually the person who introduced me and Kim. In fact, way back in 1995, we scheduled a time for the three of us to meet for ice cream and Teresa was way late, which allowed for Kim and I to have a long talk and get to know each other. The rest, as they say, is history. So, if it weren't for Teresa, it's probable that none of this Escape Adulthood stuff would have ever happened!
She was a good sport and agreed to let me draw a mustache on her for the TV camera.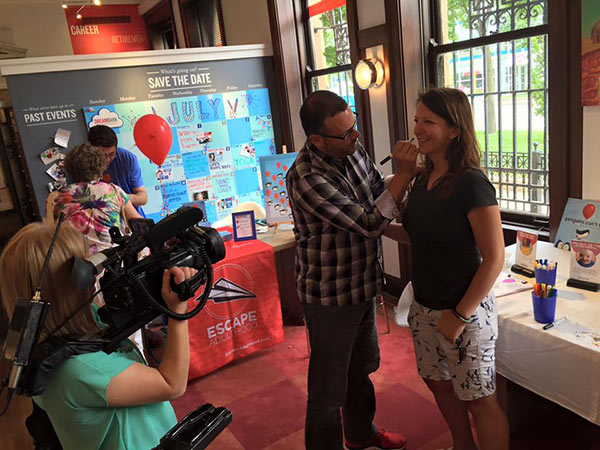 The footage didn't show up in the final clip, but she wore her new-found facial hair proudly!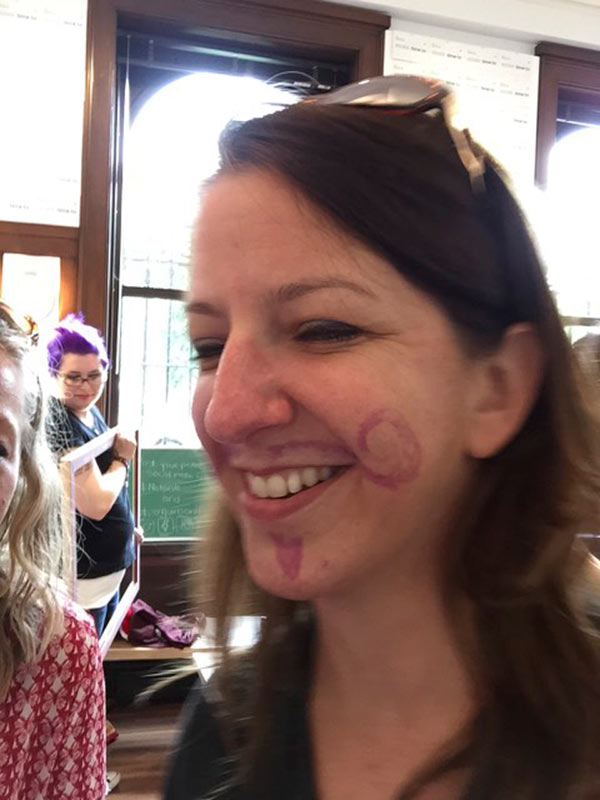 My friend John came out with his family all the way from Indiana. I went to art school with John, and we've had lots of good times together.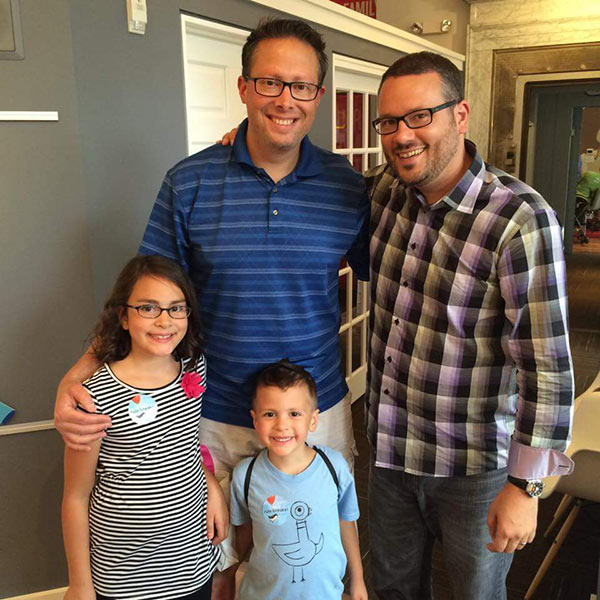 My friend Jason and his family are in the middle of a cross-country road trip in their new RV. They totally went out of their way to be able to join in on the festivities. It was a great surprise to see them!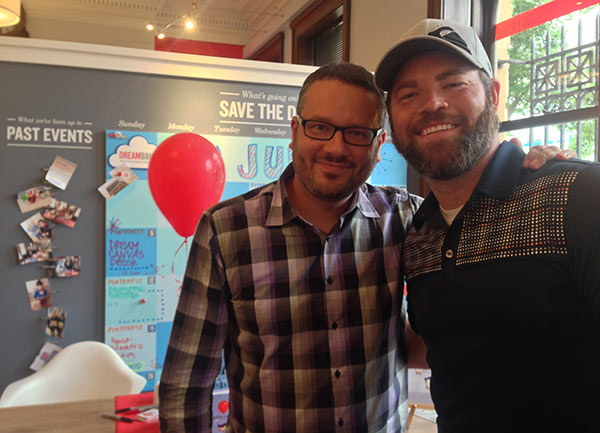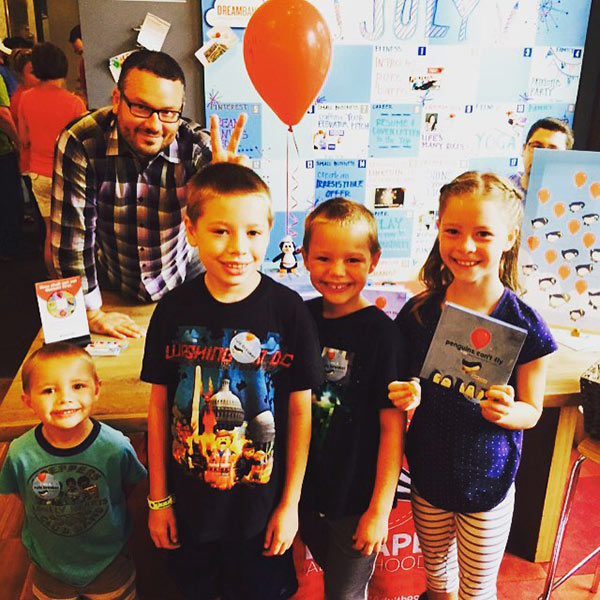 Here's Tony, my new best friend. He came with his wife Jo to help us out. Tony took the money, and Jo took a lot of the photos seen here (look for the gal in the purple hair).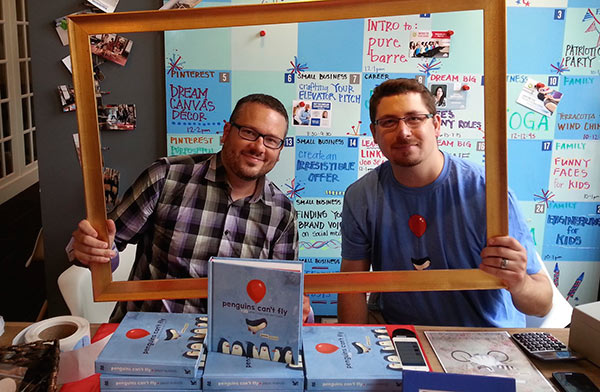 This is my agent Michelle. She is just the best. I know all authors probably say that, but it's only because they've never worked with Michelle!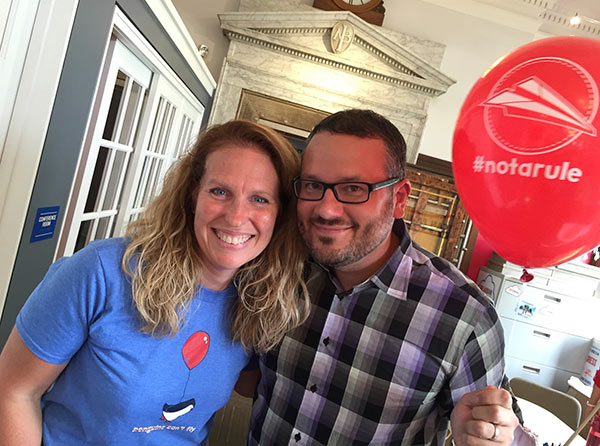 The Ingalls clan came bearing a gift…
…and then did a great job of breaking the rule, "Markers shalt only be used on paper."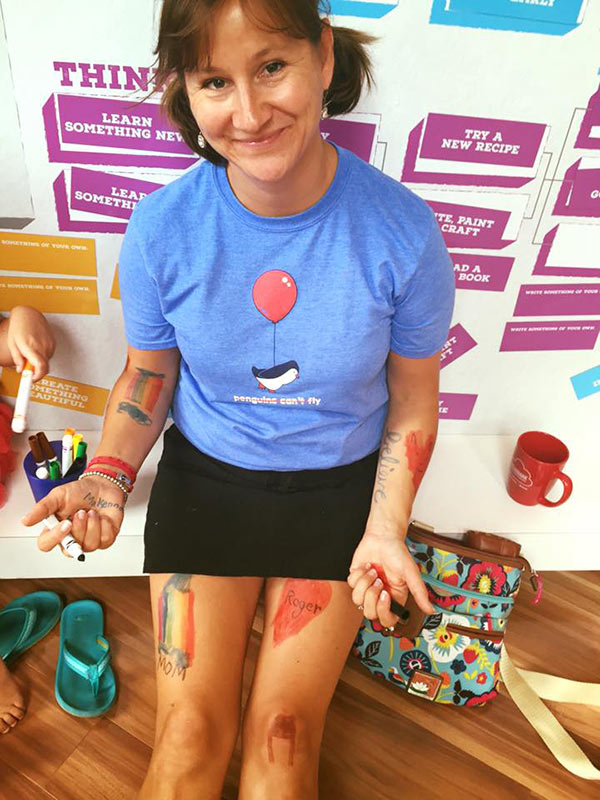 And everyone seemed have fun NOT acting their age by taking fun photos wearing silly props.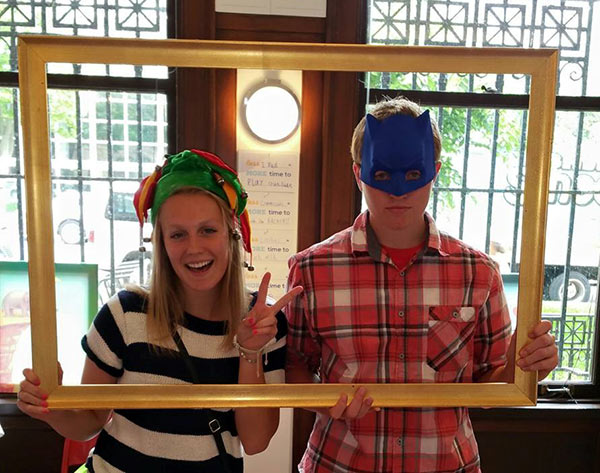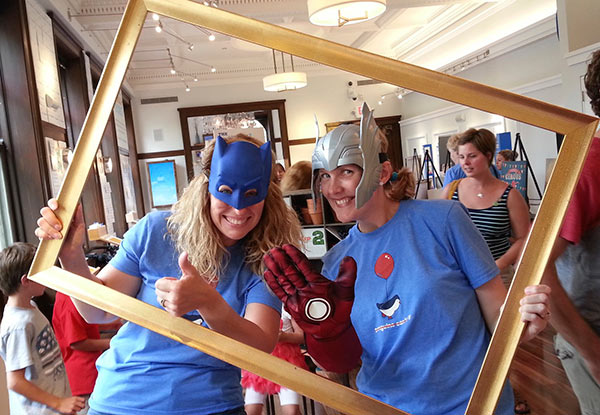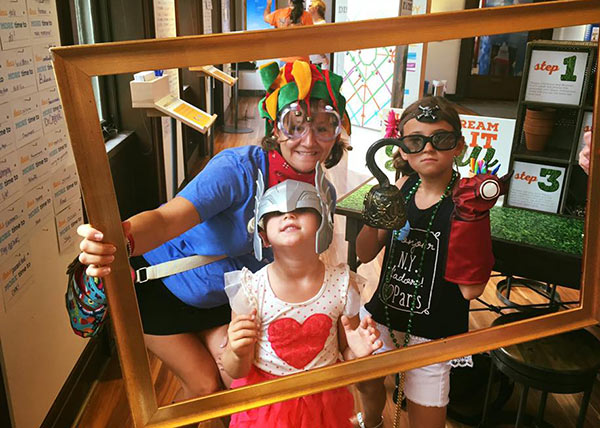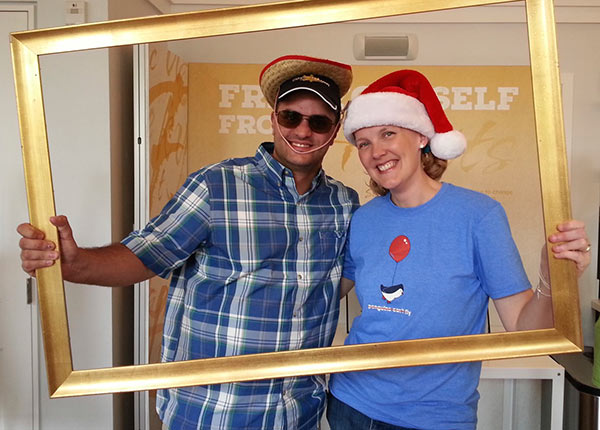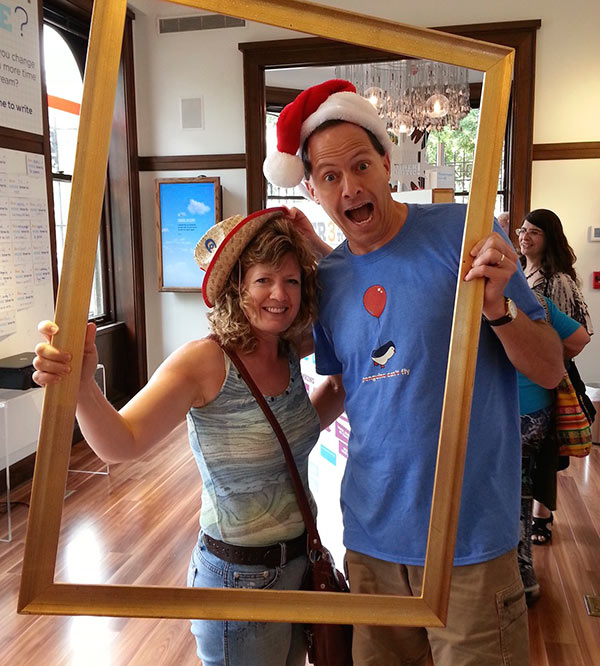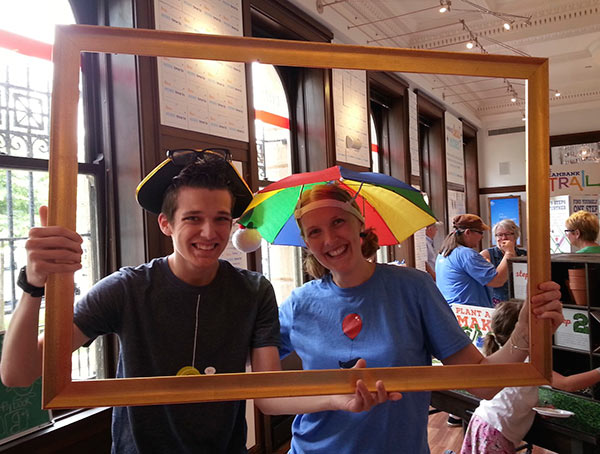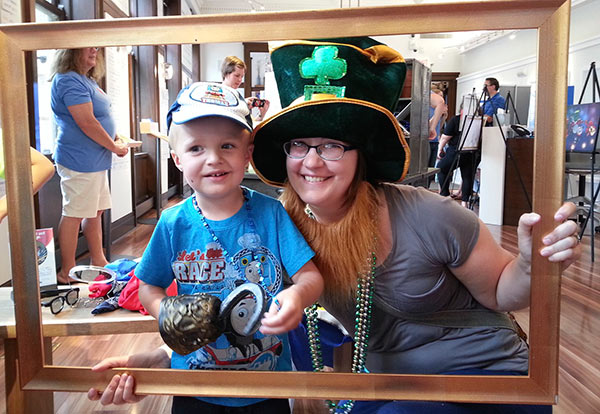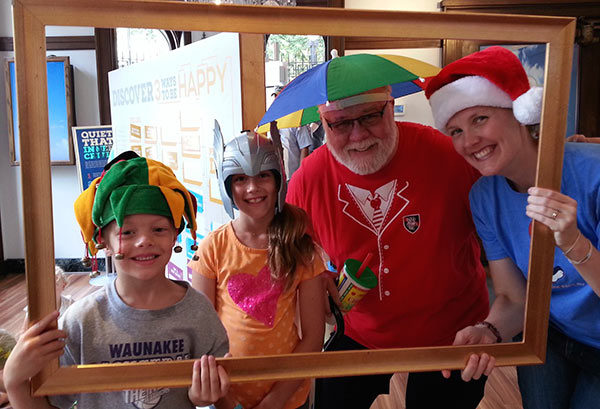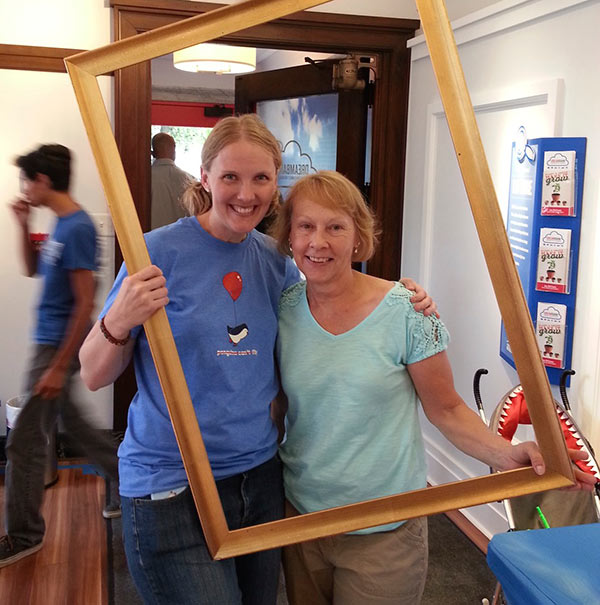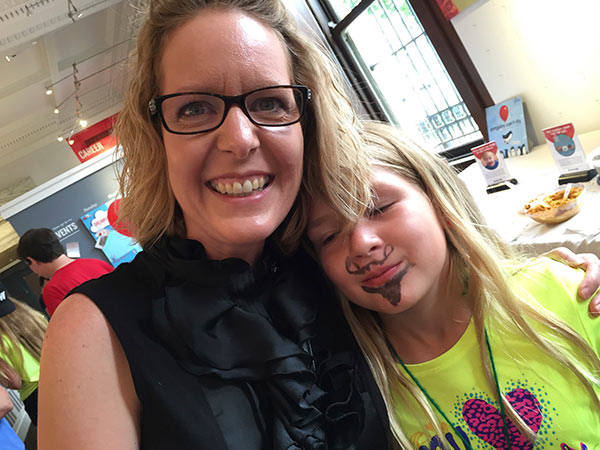 Even our youngest Ginny got into the action!
Our friend Geoff is a busy speaker who brings joy to so many people. He couldn't be in Madison, but he sent us this amazing video he made to show us he was there in spirit. It definitely brought a tear to our eyes!
Thanks to American Family Insurance, the Dream Bank, and all of the people who came out to play with us. You helped make it a truly special and memorable day!
Have you read Penguins Can't Fly yet? If yes, please leave a review on Amazon.com. If not…what are you waiting for?! Learn more here.