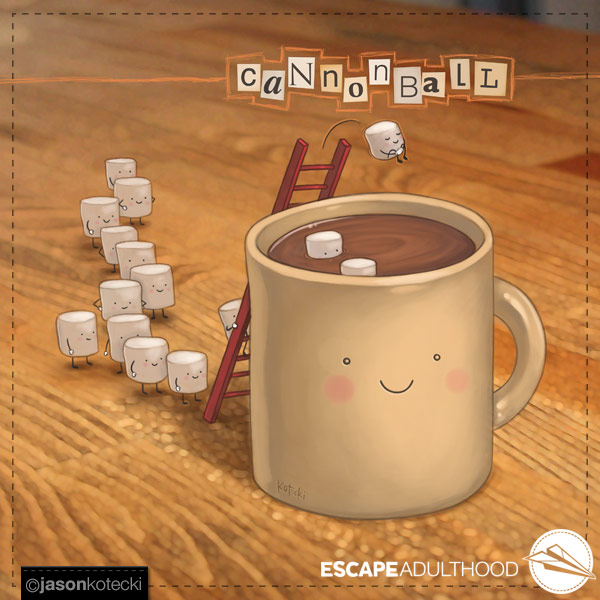 Is there something your heart is trying to convince you to do but you're just not sure if you have it in you to take the leap?
Maybe you just need to borrow courage from someone else.
When Kim and I began homeschooling, we were like every other parent that starts homeschooling: scared out of our minds that we'd ruin our kids forever and tank their resale value. There were so many reasons to go for it, but what finally gave us peace of mind was hearing from parents who had been through it, and seeing the evidence of success in the form of their grown children who had become doctors, engineers, and airline pilots.
A woman at a homeschool conference we attended put it like this: "In the beginning, I wasn't sure if it would work. But seeing the families who'd come before me and how well their kids turned out made all the difference. I was able to borrow courage from them until I got to the point where I saw the same results in my own children and develop my own self-confidence."
Sometimes you just have to look for someone who's already done what you want to do – it only takes one – and borrow courage from them. You don't even have to know them. You just have to know their story is true. If they did it, so can you.
When we found out that Kim was pregnant with Lucy, we had been traveling together to all of my speaking engagements. Most people were happy to share their assumptions that our traveling days were over, but we didn't want them to end just because our family was expanding. Fortunately, there was one family who gave us hope. Jim and Marilyn told us about their travels all over the country with their two young sons, including a trip to the Grand Canyon when the youngest was two.
We were able to borrow courage from them to move forward.
Lucy ended up on 34 flights in her first year of life. Since then we added two more kids to the mix, but our adventures didn't stop. We are a family of confident international travelers now, but we had to borrow some courage to get started.
You can homeschool your kids.
You can travel with young children.
You can write that novel.
You can start your own business.
You can lose those fifty pounds.
You can run that marathon.
You can get that degree while working two jobs.
You can make it on one income.
You can transform your community from the inside out.
You can beat cancer.
You can emerge from a divorce stronger than before.
You can find out how many licks it takes to get to the center of a Tootsie Pop.
Things are only impossible until they aren't.
After Roger Bannister proved that a mile could be run in less than four minutes, it didn't take long for many to follow. Today, it's fairly common. If someone else has done it, chances are, so can you. Does it guarantee you'll succeed? Of course not. But the biggest hurdle we face is believing that success is possible.
Some dreams require you to borrow the money you need to get started.
Need some courage? You can borrow that too.
The good news is it's free. You just have to look around.