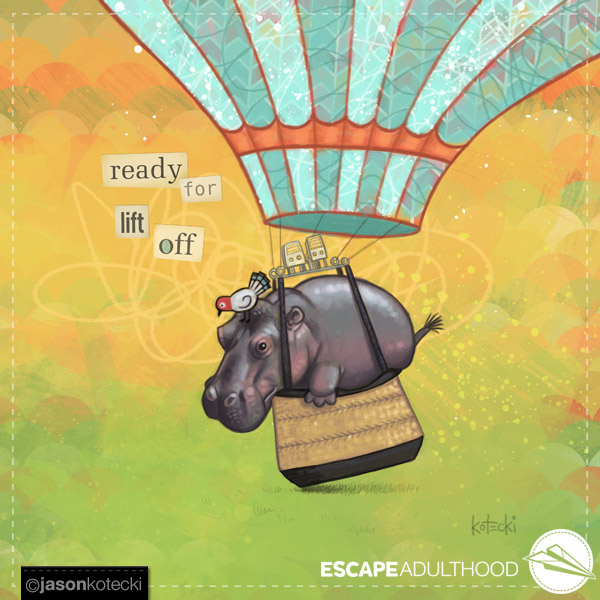 One time Kim and I spent a couple hundred dollars on a two-day craft show. That was a big chunk of change for us at the time — about two months worth of groceries. We were next to a booth where a guy was selling knockoff Garfield tchotchkes. Meanwhile, we moved a grand total of $7.92 worth of greeting cards. It was rough. Then we drowned our sorrows in sirlon steaks at Outback, which made our negative profit margin even worse.
I have a lot of stories like that from the early days. Happy times.
Sometimes I feel like this hippo. Barely off the ground, just trying to get some lift, with very little progress to show for a heck of a lot of effort.
But then I think of things like that craft show and I'm actually impressed and a little surprised by how far we've come. There is a great sense of satisfaction in what we've built and the things we've accomplished, regardless of how much distance there is left to cover.
Anything worth building takes time.
More time than you think it should.
Like way more.
We need to hear that reminder often, because it goes for everything from dream businesses and amazing relationships to paying off Bank of America and mastering the clarinet. Progress always seems to be taking longer than it should thanks to microwave ovens and Usain Bolt, to name a few. Then the media peddles their stories of overnight success. They catapulted to fame and fortune in one fell swoop, why can't you?
If there really was a get-rich-quick scheme out there, I'd be writing this from my yacht and you'd be reading this from yours.
Back in the early days, when progress was slower than a sloth on Ambien and failures mounted like a population of mogwai at a waterpark, there was one thing that kept me going: the idea that this could be the day that changes everything. This could be the idea that catches fire. This could be the day that one of my creations goes viral. This could be the day that Oprah calls and we hug and cry and laugh together.
That hope kept me persevering. Even though I have yet to have "that day," the hope kept me going, day by day, and in the meantime, the days and weeks and years piled up and turned into something real that supports my family, helps make the world a little better, and is something I'm proud of.
Are you trying to accomplish something great? Please, stick with it. Yes, keep working on improving yourself. Tinker, and do more of what works. But don't be discouraged by your seeming lack of progress.
It can take a long time for something to get off the ground, but once it does, it's a sight to behold.