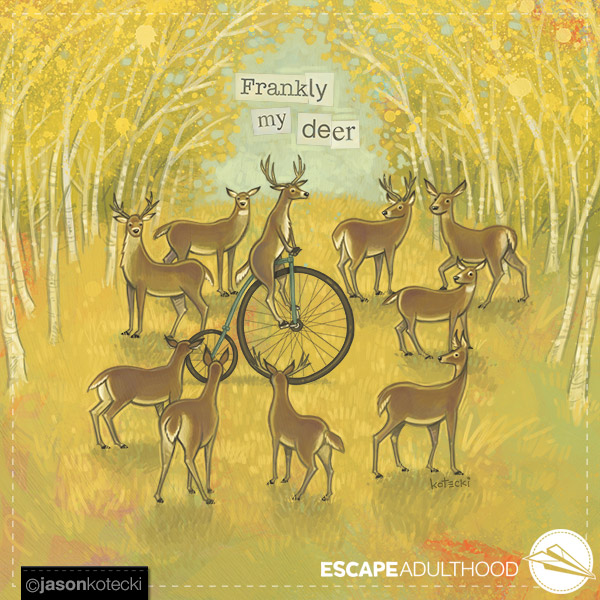 "We'd like Jason to give the same 90-minute presentation three times in a row with a 29-second break between each. Oh, and can he do it wearing a chicken costume?"
A veteran speaker friend taught Kim and I a great line to use whenever a client begins demanding things we are not able to or interested in accommodating. In these situations, he'd politely redirect the conversation by saying, "This is how I work…" and then outline the personal policies he'd established. It was his business, after all, and he had the right to run it as he saw fit.
Of course, the client had the right to look elsewhere, which was fine by him because he didn't want to spend his time doing things he didn't want to do.
As adults, we spend so much time following someone else's rules — especially the ones that don't exist — that we forget that we have the power to make our own. You may not be a business, but this is your life, and you have the right to run it as you see fit. A perfect example is this auto-responder that Kim received from someone who was on vacation:
On Friday September 16 to Sunday September 25th, I will be following some very strict rules. "Wake up smiling, soak up the sun, eat & drink plenty, nap often, go boating, sit by the fire, enjoy the sunsets, make memories and be grateful for this time."

On Monday September 26th I will return refreshed and hit the ground running!
Now who's gonna argue with those rules?
Want to set one day a week as an untouchable family day? Go for it.
Don't want to check email on the weekend? Then don't.
Want to spend the first half-hour of your day in quiet solitude? Make it a rule.
Don't want to spend any more time than necessary with people who bring you down? That's your call.
Not interested in working for clients who are rude and unreasonable? You don't have to.
Want to live a life that is more stressful and less fun? Spend it endlessly caving to the demands and wishes of others. A better alternative might be to set up a few of your own rules about how you'd like your life to work.
No, not everyone will be thrilled about your rules. That's ok. Life is too short to spend it jumping through someone else's hoops.
If you're going to live by the rules, might as well be your own.