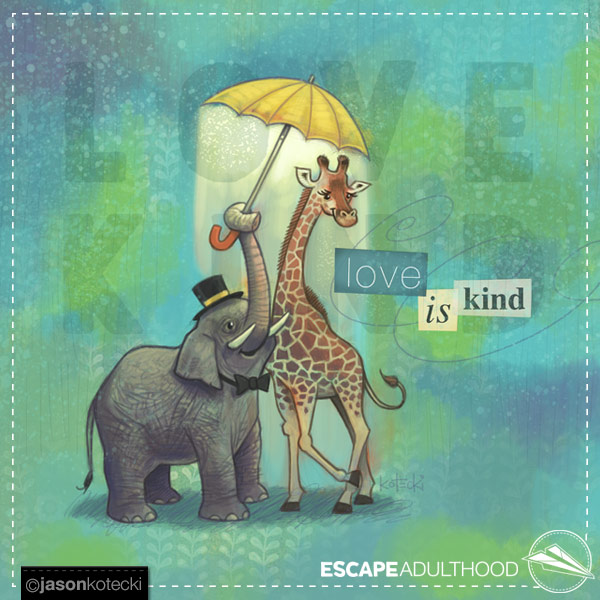 Stop me if you've heard this before: "I don't usually post anything political, but I just had to…"
I don't know about you, but this year's campaign is really bumming me out.

Recent issues of the Escape Adulthood Insider have featured comic strips exploring a presidential election from the viewpoint of kids. I originally created this one during the 2004 election season. And here I thought those days were divisive!
Ironically, my frustration doesn't necessarily have anything to do with the candidates. I'm more disappointed in the rest of us, who complain about the negative tone but seem all too eager to get down in the gutter and sling mud pies at each other. It doesn't always take the form of straight-up insults and name-calling (although it often does), but it also shows up more subtly in the righteous indignation and attempts to shame anyone with an opposite point of view.
The body count of friends who I have lost respect for is piling up bigly.
Maybe I am cowardly for not voicing my opinion on these issues. I just don't see the point. I am happy to have thoughtful debates with anyone, but no one in the history of ever has ever gotten someone else to change their worldview through a Facebook post. Social media is a wonderful venue for bomb-throwing and witty, pithy declarations of why anyone who disagrees with you is a moron, but it's not a great place for fruitful discussions.
In my forty years, I've come to understand this: at least 99% of the citizenry have the exact same desire: they want what's best for their family, their country, and the world. I'm talking regular folks here. I can't speak to the actual politicians, because I think most of them have brain damage. Deep down, we're all on the same team. We all want to be safe, prosperous, and happy. The fact that we can have diametrically opposing views on how to achieve what's best is what causes all the trouble.
So yeah, this election season is taking its toll on me. Last week I wrote about creating your own rules. Here are a few new ones I've made for myself:
Do not post anything about politics online.
Stay away from my newsfeed in Facebook.
Unfollow anyone who posts something political on Instagram, which I reserve as my happy place.
Please note, I am not against free speech; people have the right to express whatever they want. I merely reserve the right to ignore it.
On my 40th birthday earlier this year, I bought an album by Ben Rector. One of the songs has become sort of a personal anthem. Here are the lyrics:
"Make Something Beautiful"
by Ben Rector

Please let me make something beautiful
A thing that reminds us there's good in the world
A thing that reminds us there's still something out there worth fighting for

'Cause it feels like the world has gone crazy
Spinning faster and cheaper than ever before
And it feels like there's nobody giving a damn that it's getting worse

Let it be something wonderful
Let it be something beautiful

Please let me make something beautiful
A thing that reminds us there's good in the world
This totally sums up what I'm trying to accomplish with my art, and leads to the most important rule that Kim and I have established for ourselves this election season: Only put beauty and goodness into the world.
It is hard to do, especially when emotions run high, but it is a choice.
So is being kind, especially when someone doesn't deserve it.
And deciding not to shame people for what they believe? Also a choice.
The world appears to have gone crazy. Let us be living reminders that there is still good in the world by being mindful of what we put into it.