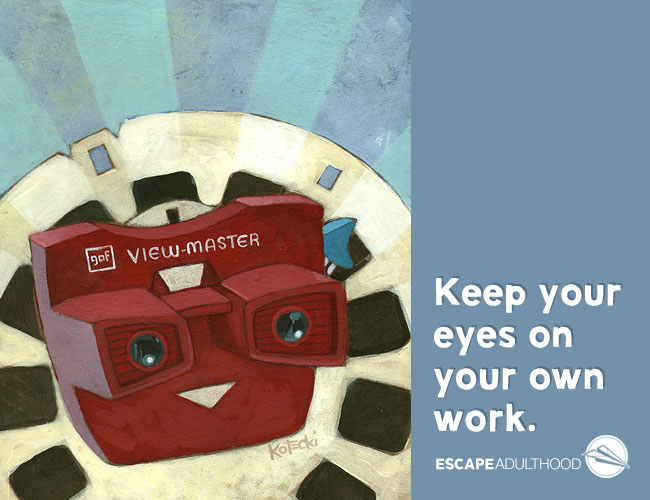 Remember back in school, when your class was taking a test, and the teacher would exhort, "Eyes on your own work!"
Of course, as I was an amazing student (and because my parents might be reading this), I knew this rebuke was never aimed at me. But you know what? I kind of wish that I had someone like this in my life now, periodically reminding me to keep my eyes on my own work.
You see, my ability to keep my eyes on my own work seems to be in direct relation to my level of happiness.
I think it could be useful to have someone around to slap my knuckles with a ruler anytime I got jealous over an opportunity given to someone else that I feel I deserved.
When my eyes linger too long on the fruits of someone else's success, it's easy to feel discontent, frustrated, aimless, impatient, disappointed in myself and generally like a steaming pile of failure.
Theodore Roosevelt said, "Comparison is the thief of joy." Boy, is it ever. Scrolling through Instagram or perusing your Facebook feed is really just one focused session of peeping everyone else's work. It can be downright toxic.
But when I am focused on the game I'm playing, working on achieving my goals that are firmly in line with my why, and competing against my past self, things are rocking and rolling. I'm happy, content, and invigorated with purpose, excited to tackle the challenges ahead.
The truth is, everyone is on a different journey and is blessed with a unique set of skills and "must-be-nices." I don't know about you, but I could probably use a daily reminder to count my own blessings, not how many my neighbor has. I'm more fulfilled when I'm breaking my own personal records, not the ones my neighbor has set. And I'm happier when I'm focusing on the things that bring me joy, not the things that float my neighbor's boat.
Turns out a big key to happiness and the best way to remain unaffected by someone else's bigger house, better wardrobe, nicer car, higher paying job, more successful kids, fancier vacation, more prestigious client, or larger bank account, is really quite simple.
Just keep your eyes on your own work.