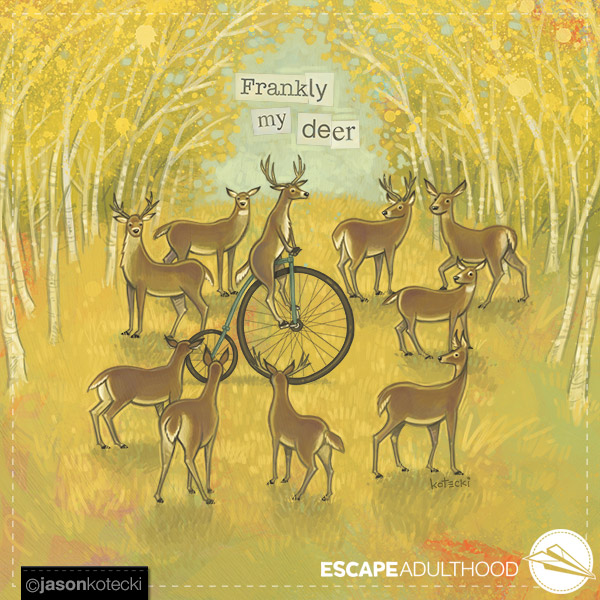 If you've been following along for a while here, you know that I am a big proponent of breaking rules (particularly the ones that don't exist.) What might surprise you is that I am equally cool with creating them, too, as long as you're clear on the reason.
I want to share with you one of the most liberating concepts I've come across, and believe it or not, it involves making and abiding by strict rules.
It's the idea of creating personal policies.
You're well aware of how big companies devise all kinds of policies to protect their interests. You've heard it dozens of times: "I'm sorry ma'am, that's not our policy," or "Sorry sir, our policy clearly states…" As frustrating and ridiculous as some of these policies can be, you know that there's not much you can do about them. They're usually written by lawyers and backed up by loads of bureaucracy.
If you've ever arrived at your departure gate at the airport fifteen seconds after they've closed the door, you know their policy of not re-opening it for any reason is iron clad. You're not getting on that airplane.
The cool thing is that we can dream up our own personal policies, and just like with the big companies, the people in our life will accept them (even if they don't understand or like them.)
For instance, we recently instituted a personal policy for family vacations. Due to the nature of our business, we know a lot of people scattered all over the country. Anytime they hear that we're in their neck of the woods, they want to get together with us. Which is flattering and much-appreciated, except that if we always said yes, we'd never actually spend any family time on our family vacation! So now, when someone asks to get together, we share that our personal policy is that when we take a family vacation, the time is reserved just for family.
This accomplishes several things:
It prevents us from having to choose which requests we could reasonably handle, keeping us from having to disappoint someone.
It gives us a gracious way to say no.
Most importantly, it keeps our schedule clear for the reason we're taking the trip in the first place.
Keep in mind that we are a family of introverts. Other families might want to spend a lot of time meeting up with people they don't see very often. I know some speakers who always try to find a colleague to have coffee with at every city they visit. That's cool, too. That's why they're called personal policies.
The beauty of this approach is that just like with big companies, people don't usually squabble with policy. It's a policy after all, and people tend to respect them.
I originally heard about this idea from Sarah von Bargen of Yes and Yes, and I just loved it. Some of my favorite examples she gave that you might want to borrow:
I have a personal policy of never loaning money to friends.
I have a personal policy against riding with a driver who's had more than two drinks.
I have a personal policy to buy Combos on any car ride that's longer than 2 hours.
I have a personal policy that I buy gumballs anytime I encounter a gumball machine and have the requisite quarter.
As you can see, your personal policies can fall anywhere on the spectrum from fun to serious.
Sarah points out that establishing personal policies minimizes feelings of guilt, creates certainty by removing wiggle room we may not want or need, and that people tend to respect policies more than preferences or requests.
Kim and I have been doing this for years with our adherence to a Sabbath. Once a week, we set aside one day that is free from chores, errands, or outside commitments of any kind. It's been non-negotiable and I credit it as the single greatest contributor to the health and sanity of our family.
The new wrinkle is referring to it as a personal policy, which for reasons outlined above, takes things to a whole new level.
Rules aren't inherently bad. They can create structure out of chaos, and they can free our brains up to focus on more important things. The best ones serve us by creating more freedom rather than taking it away.
So consider this permission to go ahead and start adding more rules to your life. After all, if you're going to follow rules, they might as well be your own.
Sounds like a pretty good policy to me.