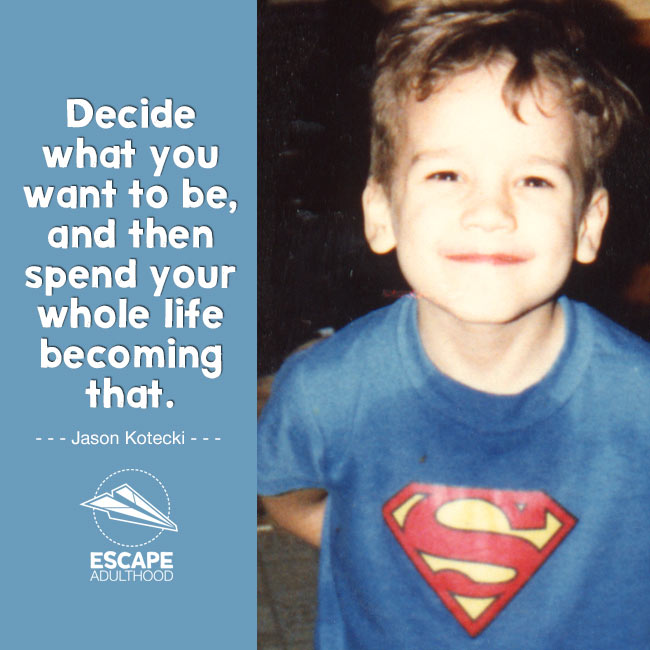 What do you want to be when you grow up?
It's a common question we ask children. Comedian Paula Poundstone says it's because we're looking for ideas.
The key word in that question is "be." Too often, we adults change that word to "do." It's the classic, tried and true opening line you'll hear at every bar, party and networking event: So, what do you do?
That one little word changes everything.
When we ask kids what they want to be, they respond with an answer that sounds a lot like what they want to do. But if you pay attention, that's not the case at all. Sure, they might say "firefighter," "astronaut," or" ninja," but what they want to be is brave, adventurous, helpful, and a person who spends time doing what they love.
We've lost the plot, and in so doing, have lost our spark.
Spoiler alert: We are human beings, not human doings.
What if we're currently in-between jobs, or trying to transition from new season to the next? Does that mean we are nothing? If you've ever been in that situation, you know that's often what it feels like. Meanwhile, waiting tables or cleaning bathrooms might be what we do, but that doesn't fully represent who we are.
There is a lie that by the time you reach adulthood, you should have everything figured out. You have become who you are meant to be. And if you haven't, it's too late.
False.
We are all in the process of becoming something better. Always.
Judging by how college visits seem to be happening earlier and earlier in a high schooler's career, the pressure for kids to figure out what they want to DO for the rest of their life continues to escalate.
As homeschooling parents, Kim and I have come to the conclusion that the being is more important than the doing. We asked the question, "When our kids are adults and out on their own, what do we want them to BE?"
For starters, we want them to BE…
…kind.
…confident.
…curious.
…resourceful.
…honest.
…passionate.
…brave.
…helpful.
…adventurous.
If our kids end up being all of these things, I'm pretty sure they won't have much trouble figuring out a way to do anything they want.
Yet here's the thing. I want to be all of those things myself. Some days I am, other days I need a little work.
No one has it all figured out. We are always in a state of becoming.
So, what do you want to be when you grow up? Yes, I realize that you are already considered to be "grown up." But what do you want to be when you turn 40? Or 50? Or 70? Or…100?
Perhaps you'd like to be more physically fit? Financially secure? Resilient? Handy? Forgiving? Adventurous? Brave? Kind? A more loving friend, parent or spouse?
Whatever it is, good. Begin today. Be a little bit more of that than you were yesterday.
Figuring out what to do is simple.
First, decide what you want to be, and then spend your whole life becoming that.