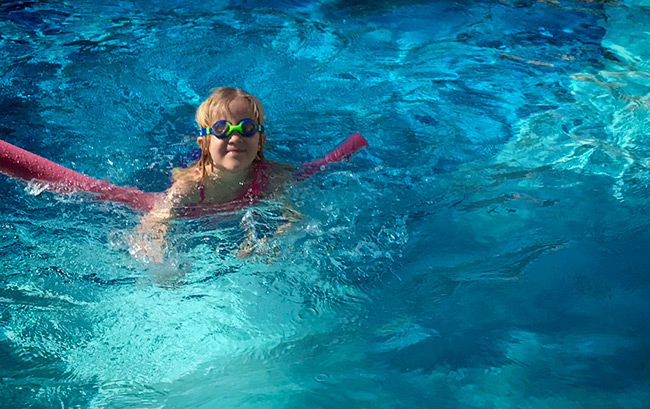 We went to Mexico recently. My youngest daughter spent the first hour in the pool at our condo on her tiptoes, bouncing around to various areas, repeatedly asking, "Can I touch?"
When you're little, and don't know how to swim yet, that's the only question that matters.
"Can I touch?"
It's a simple yes or no question.
The translation, of course, is "Can I survive here? Am I safe? Do I have anything to worry about?"
Only Ginny was asking this question, as my other two kids know how to swim. Once you know how to swim, you don't need to ask, because it doesn't matter if you can touch or not.
I can relate to this.
It took me a long time to learn how to swim. Not because it was hard, because learning how to swim is actually not that difficult. (Especially when you define "learning how to swim" as "being able to float when you're in water over your head.") No, the reason I was in swimming lessons for what felt like decades was because I was afraid.
I spent the longest amount of time in 6A, the final station on the shallow side of the ropes. In order to graduate to 6B, you had to "swim your laps." This test consisted of utilizing the freestyle stroke to swim back and forth –– one time –– across the deep water.
Clearly, this was not Navy Seal training.
The span of one length was no more than thirty feet, I'm sure, although it felt more like thirty miles back then — with sharks! I was so terrified of it that even though I had achieved Olympic-level mastery on my freestyle stroke, anytime the teacher suggested I might be ready to swim my laps, I panicked and instantly regressed, on purpose. My stroke got all wonky. I made sure to stop several times on my practice runs, standing up to rub my eyes and "catch my breath." When I heard the teacher say, "Well, it looks like you're not quite ready," I knew I had successfully postponed my fate of becoming shark fodder for one more day.
My Mom was desperate. (Maybe she had better things to do than drive me to swimming lessons every day until I could shave.) So even though there were other stations beyond 6B, she negotiated that if I'd just make it to 6B, I could quit. Tempting, but no. I came to peace with the idea of still being in swimming lessons with my grandchildren.
It did start to get embarrassing when kids half my age were passing me up, however. The tipping point came one summer (after swimming lessons had finished for the year), when I was at a public pool with my cousins. They were jumping off the diving board, swimming with reckless abandon, and there I was, clinging to the edge like a petrified barnacle.
Maybe the shame got to be too unbearable. But that day, I just let go of the edge.
And – spoiler alert – I didn't die. I was able to tread water, and move around, and somehow didn't plunge to the bottom of the pool like a marble statue. That same day, I eventually worked up enough courage to jump off the diving board for the first time.
Next summer, on the first day of swimming lessons, I took my mom up on her offer. Within five minutes, I swam my laps, and didn't look back. I never again had to ask the question, "Can I touch?"
Not having to ask that question brings a tremendous amount of freedom in the swimming pool.
Life is better that way, too.
Learning how to swim is knowing that when you get in over your head, you'll be ok. It seems to me that the people with the best-lived lives are the ones who regularly get themselves in over their heads without worrying about asking, "Can I touch?" They know that fear's bark is stronger than its bite, and that most of the things we worry about never happen.
Now you could have someone throw you into the deep end and hope for the best. Sometimes that works. Sometimes it traumatizes you so much that you never want to enter the pool again. A better strategy is to just keep inching away from the edge, realizing that letting go of your fear is the hardest part.
It's also the most important.
After all, once you know how to swim in water that's eight feet deep, swimming in eighty feet of water isn't any different.
Learning how to swim, in the pool and in life, is mostly about learning how to let go and trusting that you'll be ok. That's when the fun really begins.