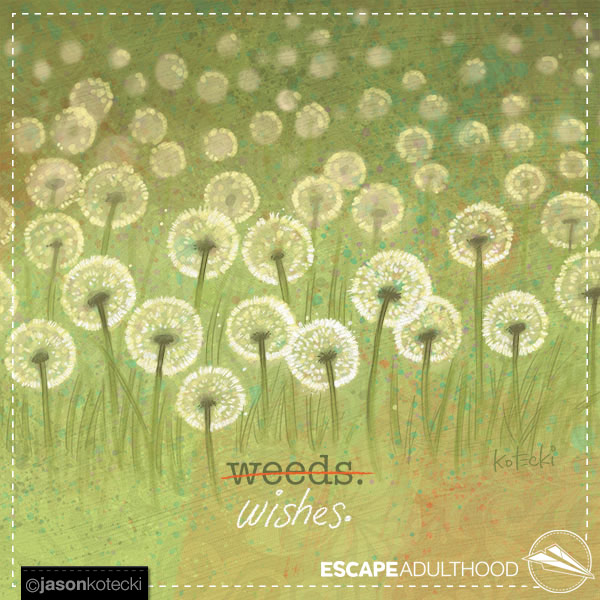 If you've ever been to one of my speaking programs, there's a good chance you've seen me share this artwork.

Recently, a person came up to me after a talk, and under her breath, sheepishly admitted, "I'm sorry, but they're still weeds to me."

I thought that was interesting, especially because I never actually said they weren't. Dandelions are, at least horticulturally speaking, weeds. But they are also, according to most four-year-olds, wishes. (And flowers for Mom.)

The thing is, challenges are like weeds. Once a challenge has sprung up in your life, pretending that it doesn't exist doesn't make it true.

A field of dandelions may very well represent a million weeds, but it can also represent a million wishes. It's both. The power comes in deciding which viewpoint you choose to adopt.
The key word is CHOOSE.

Basically, that's what my book, A Chance of Awesome, is all about. It's not about living in a magical fairy land pretending our problems don't exist. (I've found that usually only makes them spout more problems that are bigger and more powerful.) Rather, it's a book that asks you what you're going to do about it, and shares some ideas for taking productive steps forward. Because the first step in changing the outcome of a problem starts with changing the way we see it.

For example, let's say you lose your job. Waking up tomorrow and going back to your previous place of employment is not going to change that fact (but may merit you a restraining order). Likewise, while grieving is normal and healthy, spending every day from here on out wishing you still had that job, being angry about being let go from that job, and telling yourself over and over again that no job could ever measure up to that one is only ensuring one thing: that you'll never find the next (potentially better!) job.

Challenges are real. They're hard, uncomfortable, and often very much unwanted. If we spend our time and energy complaining about a challenge, we miss out on the fact that it's also an opportunity. 

So. What frustrating, terrible, no-good thing has sprung up in your life recently?

Let's not pretend that it's not frustrating, terrible, or (seemingly) no good.

But let's remember that it could also be an opportunity – a chance – for something awesome.