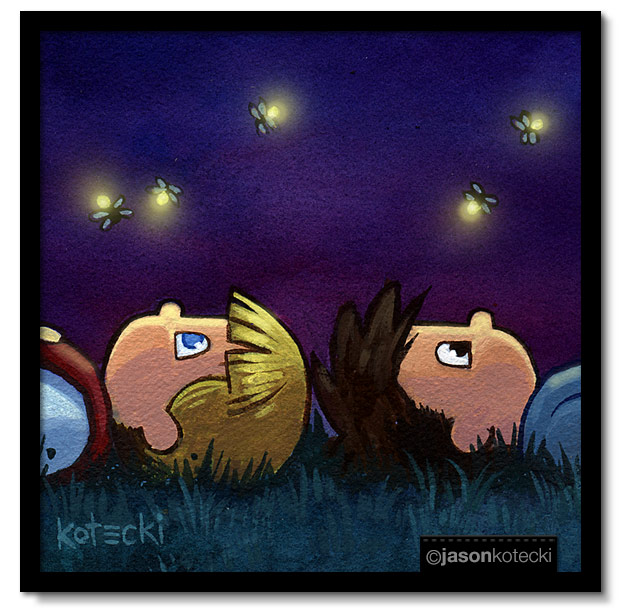 One of my favorite parts of being a parent is showing my kids cool things and watching their eyes light up: Let me show you how to make this drawing look even more realistic. Wait 'till you see this tiger up close. You are not going to believe this thing called the ocean. Watch what happens when we heat up these popcorn kernels…

Just last week, we watched The Wizard of Oz. My oldest had seen it, but it was brand new to the two littles. What a delight it was to see it through their eyes, with each bend on the yellow brick road leading to something new to marvel at. 

When we're young, it's easy to see wonder. It's everywhere. It's in rainbows and dandelions and toasters and the way your grandpa made it look like he could slide his thumb right off his hand.

That the world is filled with magic is an obvious fact to a child. But that perspective can fade as we grow older. We've been around long enough to see how things work and we begin taking things for granted.  We may not be able to explain how the magician's trick works, but we know it's a trick just the same. Perhaps we've been at the wrong end of the actions of someone who hurt us, and so we try and numb the pain by erecting walls around us.

In times like these, it's easy to feel like wonder is in short supply, or even gone extinct.

But has it?
I believe that wonder is alive and well. Maybe our cold hearts just need to see with new eyes.
This crisis has been difficult in countless ways, different for each one of us. The way through this is with eyes of wonder, which is all around us, waiting to be found. It could be that we've been looking in the wrong place.

Friend, look around. Look at the people helping people with humility and kindness. Look at the courage and selflessness of healthcare workers on the front line. Look at the innovations springing up to solve problems in creative ways. Look at our planet bursting forth with signs of new life. Wonder is abundant!

Now more than ever, I am convinced that God is a loving parent bursting with anticipation to show us cool things and eager to see our eyes light up. He is like a great magician, revealing one trick after another, leaving me breathless and wondering, How did he do that? Today is a day I am celebrating what I believe to be his best trick ever.

Maybe the reason we feel like wonder is missing is that we've let go of his hand, distracted instead by never-ending newsfeeds of doom, trusting in uncertain scientific models to grasp some sort of certainty, and peering into an unknowable future with an anxious heart. 

This is the entire reason my wife Kim created Wonderhunt: To help people find the wonder hidden right under their noses. It was born out of a dark and desolate time in her life when God took her by the hand and said, "Did you notice this?… Wait 'till you see this…I can wait to show you this…" And slowly but surely, day by day, she began to heal and was reawakened to the miracles hidden in plain sight.

If you could use a little more help seeing wonder and finding joy, I hope you will consider joining her in the latest installment of Wonderhunt, which starts tomorrow. It might be the catalyst that changes everything.

But most of all, I hope you will grab hold of your Father's hand, and let him show you cool things. There's a lot of wonder to be seen.