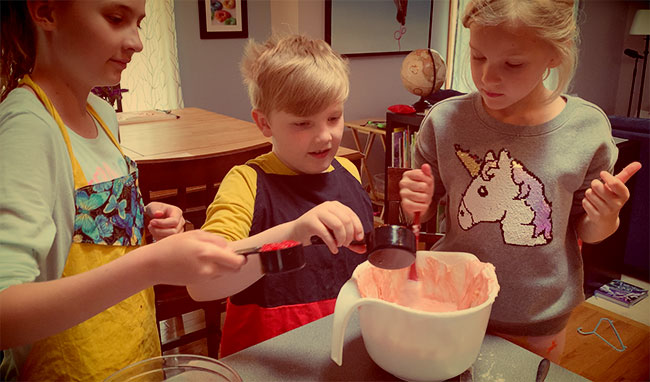 The ganache wasn't very ganachey. A rose kept falling off. And it was a little lopsided. But that didn't make the cake my kids made for my anniversary any less a work of art, or a gift of love.

It started as their desire to do something nice for our twentieth wedding anniversary. Since we've been binge-watching Kids Baking Championship, we gave them a challenge. They had to design and bake a cake that represented both Mom and Dad (a worthy challenge considering Kim and I fall on opposite ends of the dessert spectrum). It also needed to be at least two layers and be made from scratch. We told them we'd get whatever ingredients they needed, but they had to find the recipe and provide us the ingredient list.

Despite a few minor flaws, the end result was impressive. And it tasted good, too!

This pandemic has caused a lot of us to ponder, what is school for? It seems an obvious answer on the surface: to educate our kids, of course. But it gets a little complicated when you ask the next question: educate them about what?

As parents all over the world have been forced to take a more active role in the educational process of their children, I imagine many of them have wondered about this. Perhaps they felt a little out of their league because the kids were learning stuff the parents didn't know much about (or had forgotten it since they "learned" it), making it difficult to even know how to help.

When Kim and I began our homeschool adventure, we were forced to ask (and answer) the question, what do we want our kids to learn? Obviously, we wanted them to know how to read and be proficient in basic math skills. But what else?

We tried to think about the things that stuck from our days in school. (Not very much, sadly. I had a pretty high ACT score, but if I had to take the math part over again, I'd be relegated back to middle school.) Then we thought about our current lives. What skills are needed to survive – and thrive – in today's world?

Facts and figures were on the very bottom of the list, what with a search engine now in every purse or pocket. Ninety-five percent of the skills I've used to build a profitable company that's nearly twenty years old didn't come from the degree I earned. That's not to say my degree was worthless, it's just that most of the skills I rely on today were learned after I graduated. (I may be demoted to middle school math, yet I know how to figure gross margins and read a balance sheet.)

I am not special, by the way. This is how adults learn all the time. When a doctor finds a rarely-seen condition in a patient, she doesn't sign up for a class that runs for 6 weeks and starts next semester. When you want to learn how to do a home improvement project you've never tackled before, do you look into getting a degree in construction management? No. You Google it. You watch some YouTube videos. Maybe you ask an experienced friend or buy a book from Amazon. And when do you do this? When you want to actually do the project. Now, when it's relevant, not thirteen years ago before you even owned a home.

Human beings – including kids! – are natural learners. You didn't have to give your daughter set-by-step instructions about how to walk. At some point, we stop allowing them to learn in natural ways. We force information upon them that is neither relevant nor interesting. But if they are allowed to chase an interest, it's impossible to contain the learning that takes place.

Kim and I came up with a list of twenty things we wanted our kids to learn, which included skills like self-confidence, resourcefulness, responsibility, creativity, persistence, good communication techniques, financial acumen, and the curiosity of a life-long learner. We realized that some of these things are taught in the classroom, but they go far beyond the scope of four rooms in a traditional school.

I am actually excited about the opportunity this pandemic has brought about. Not because I hope everyone will suddenly become homeschoolers. Frankly, I suspect it will be the opposite because what most parents have been forced in to is NOT homeschooling; it's survival. When I get a peek of what life looks like balancing the schedules of their children who have several teachers each, while still trying to do their own work from home, it reminds me a lot more like insanity. (By the way, can I get a shout out for all the teachers who are doing their best to make a difference within a system that wasn't designed for this!?)

The point is, you can call it distance learning, or e-learning, or even schooling-at-home, but it doesn't match any brand of homeschooling I've ever seen a homeschooling family sign up for.

Our brand looks a lot like unleashing the kids in the kitchen to bake a cake from scratch. From that project alone, my kids got to practice cooperation, compromise, teamwork, improvisation, problem-solving, persistence, creativity, presentation skills, leadership skills, cooking skills, not to mention some math, science, and reading.

And that, my friend, is the opportunity available to every child, parent, grandparent, aunt, and uncle, which has nothing to do with the choice to permanently "homeschool."
It's the chance to look at education with new eyes, and the opportunity to use this time to gift our kids with some new, rich experiences that aren't possible during "normal" times.
It's easy to feel like you have to make sure your kids are on top of all the assignments sent over by their teachers. But here's a little secret: no kid is going to be failed over this crisis. What if you scaled back on the "required" work, and gave your kids the freedom to explore their own passions for a change? And no, this doesn't mean you suddenly have to be expertly qualified in all things they take an interest in so you can properly "teach" them. Your job is to serve as a coach, a guide who can help them find the information, materials, and mentors they need to level themselves up.

Back in the olden days, kids learned important life and trade skills from mom and dad and extended family members. What are your talents? What skills do you have that you can pass on to the important children in your life? Do you know how to change a tire? Bake bread from scratch? Build an end table? Design a simple website? Plant a garden?

Are these not skills that could serve them just as well as knowing the names of wars that happened during the ancient Roman Empire?

What is a project you could let your kids take a deep dive into for a few days or weeks in a way they never could during "normal" times? Could they build a treehouse? Renovate a spare bedroom? Start a small business from scratch?

I was blown away by what my kids were able to produce in the kitchen this week. (I invite you to see the results for yourself.) I am continually reminded of how often I underestimate them. But I am not alone. I think we as a society underestimate and undervalue our young people all the time, whether they are four, fourteen, or twenty-four. Too often we resort to the lowest common denominator of scheduling their days full, telling them what they need to know, and selling them short.
Our kids are capable of greatness.

This may be the best opportunity we've ever had to step aside and let them show us.