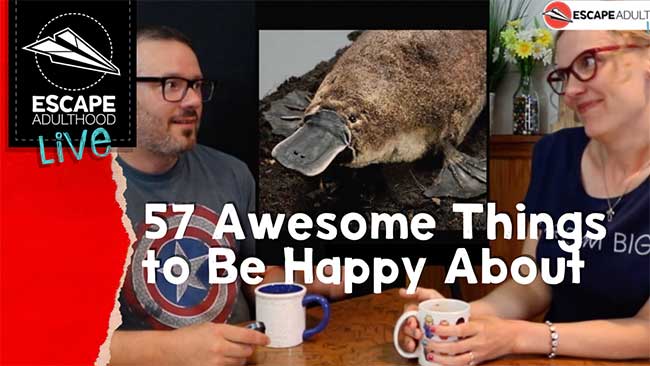 When I watch the news or scroll through my social media feed, it's easy to come away feeling that our world is burning and beyond repair.

And yet.

Kim and I spent some time at a state park the other day. We encountered lots of groups of young people hiking, hanging out, and having fun together. Many of them were mixed race. There were no news crews to be found. But can you imagine watching the news this evening, showing video after video of these young people with the headline: Racial Unity Breaks Out Across the Country!

Then picture a follow-up segment triumphantly declaring that over 421,000 people in the United States have recovered from COVID-19 along with a story of the promising treatments and vaccine trials that are underway. (True story, by the way.)

Can you imagine how different you'd feel when you went to sleep tonight?
My point is NOT to minimize the pain and suffering that is happening right now. My point is to show you how easy it is to craft a narrative, and how easy that narrative can impact how you feel.

It makes me wonder about the headlines that are constantly trumpeting the up-to-date number of cases and deaths. After all, during the Olympics, every newscast regularly shows a running medal count, with how many gold, silver, and bronze medals we won. Ever notice how they don't keep track of how many we lost?

Why isn't there a ticker at the bottom of the screen with a running tally of COVID-19 recoveries (i.e. our wins)?
The media is crafting a narrative for us and you have to ask why they are choosing to craft the one they are.
The good news is that you have control over the story you want to follow. After all, why keep returning to the narrative that stresses you out and makes you feel bad?

And so in this video, we wanted to share a different narrative. Instead of looking at all the things to be bummed out about, we decided to shine a light on things to be happy about. And so without further ado, here are 57 awesome things: