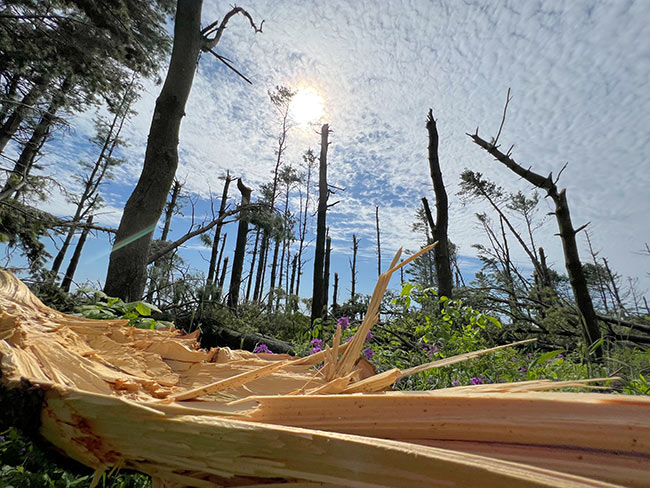 I wanted to share an update with you about what happened in the middle of our season finale 99th episode of Escape Adulthood LIVE. Kim and I had a lot of fun dressing up as 99-year-olds. There was much shenanigating (the first five minutes were worth the price of admission!). Near the end of our "Let's Draw" segment, a severe storm knocked out our power, abruptly cutting the show short.
As it turned out, the storm produced a 100-plus mile per hour straight-line wind, which from what I understand is like a tornado but instead of rotating, the wind comes in one direction. Kim ran upstairs to collect the kids. When she came back downstairs, one of the kids mentioned a tree had fallen, and Kim confirmed there was "significant tree damage."
After the storm settled a bit, I went upstairs to assess the situation. I was not ready for what I saw.
I expected to see a few fallen trees, not a preview of the apocalypse. A hurricane-force wind had done its damage. Our backyard, which had at least a hundred trees, was nearly bare. They were just…gone. Uprooted trees were everywhere. A few jagged sticks jutted out from the ground – the remains of trees that had been snapped in two. Most of the rest were diagonal, ready to fall at any moment.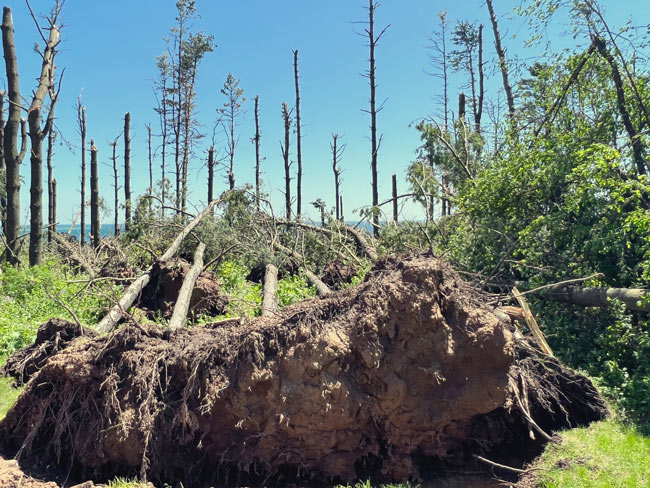 I walked outside into the dusk. It was raining lightly. Two trees had fallen on our roof, and another landed on our car, shattering the back window.
Carnage was everywhere.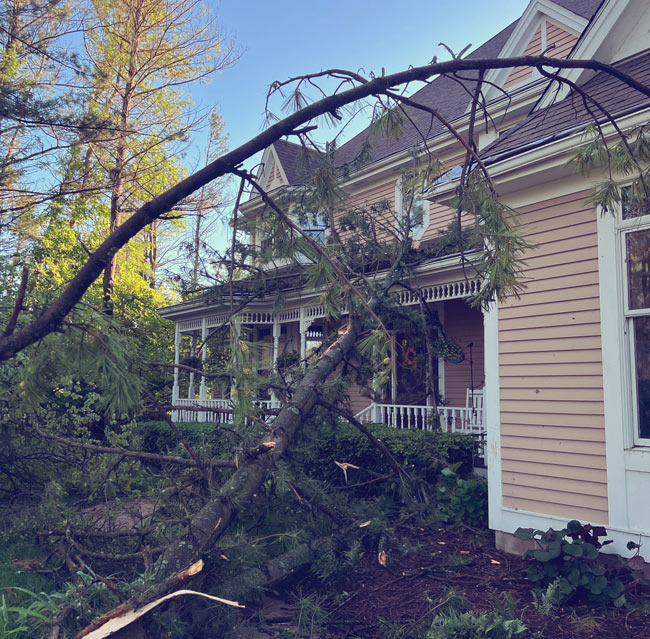 By the time I went back inside, Kim had a cozy nest set up downstairs with blankets and candles, and flashlights. We were in shock, still in our silly costumes, trying to process what just happened. We were grateful to all be safe.
The days since have been a blur. It took about 24 hours for the power to be restored. I was scheduled to leave at 6:45 the next morning with Ginny for a speaking engagement in Chattanooga. It was supposed to be her first Daddy Daughter trip.
In bed that night, every time lightning flashed, the eerie silhouette of the craggy trees lit up like a living nightmare. 
After "sleeping" for about an hour, Kim and I were up early to see about clearing the driveway. A friendly neighbor stopped by and helped me chainsaw the fallen trees and push them out of the way, clearing a path for the other car that was still in good shape. 
After much deliberation, we decided to continue as planned, and Ginny and I headed to the airport. I tried to refocus my mind on the job at hand. Kim took on the Herculean task of calling insurance agents and tree guys and sorting through the mayhem that attracted a steady stream of onlookers perusing the devastation.
I am writing this from a hotel room in downtown Chattanooga. My youngest daughter is still sleeping, tuckered out from two hours spent in the pool yesterday afternoon. My talk for the Tennessee Pharmacy Association was well-received, and Ginny served as my beautiful assistant, checking bingo cards and handing out books as prizes to attendees. My goal has been to be professional, deliver a remarkable presentation, and make this trip as memorable and fun for Ginny as possible.
Meanwhile, my wife has been an All-Star, with her titles of "Director of Everything" and "Little Miss Details" proving to be accurate labels. My parents came up to help, bringing years of wisdom and a generator to power our refrigerator. So many people have stepped up to help in mighty ways.
Even amidst the shock of processing the initial damage, we have tried to turn any fear we've had into curiosity. We are heartbroken over the devastation of our property, but are already asking the question, "What does this make possible?" We are grateful for our safety, an outpouring of support, and amazed at the ways we are already seeing God work.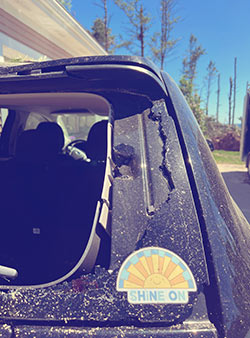 I'm sure there will be more to report on that front in the coming weeks and months.
​
One seemingly miraculous development is that even though close to a hundred trees were uprooted and tossed about all over our yard and house, the new studio renovation was completely untouched. This is especially significant because it had yet to be insured since the walls and roof were so recently finalized.
"Turn fear into curiosity" was one of the pieces of advice my 99-year-old self gave me in the monologue I delivered just a few minutes before the storm hit. I think it was one of my best monologues yet – definitely one of the most emotional – and I'm proud to be able to show it to you here.
Thank you in advance for your thoughts and prayers as we continue to sort through this. It could have been much worse, and I am reminded yet again that it's awfully hard to be mad or afraid when you're busy counting blessings.
---
🤔 I wonder…what's something you've recently been reminded to be grateful for?