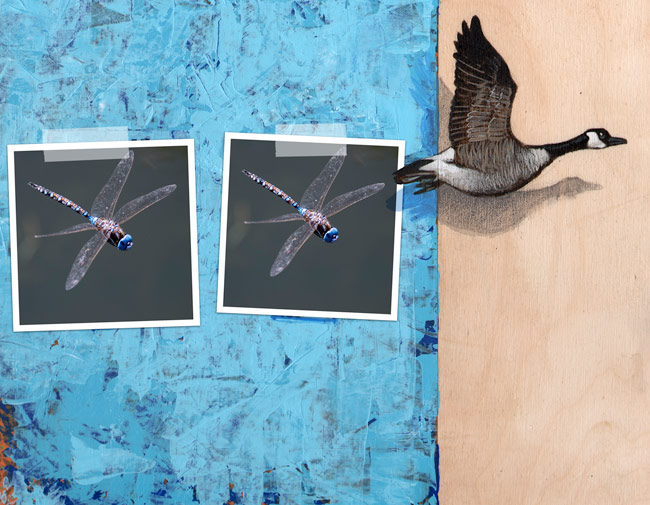 Recently, my backyard was ground zero for a swarm of supposedly migrating dragonflies.
I say "supposedly" because they didn't seem like they were doing anything remotely as organized as migrating. They zigged and zagged like a chaotic ballet of Red Bull-fueled teenagers at a rave pumping out music with a BPM of infinity.
Despite their numbers, they seemed more silly than menacing. It's hard to fear something that appears so dumb and easily distracted.
I can't help but compare them to geese, who are all business when it comes to migration. You can tell they're going someplace important, like an arrangement of fighter jets making their way to the Super Bowl.
Dragonflies aren't nearly as precise and organized.
I don't know where they were going—it didn't seem like they did, either—but I found myself hoping they got there. I assumed their journey was at least mildly arduous, but if their final destination was the next neighborhood over, well then, party on my friends.
While I sit here judging them and chuckling at their expense, I realize the joke is on me. After all, they are not completely unlike us humans.
How often do we resemble these seemingly dumb and easily distracted creatures?
How easily do we veer off track from our target, allowing the latest fad, news headline, or the dopamine lure of social media to pull us down rabbit holes?
How many times do we stall in making progress on anything meaningful as we flit from one high to another, looking for easy wins and getting drunk on instant gratifications?
Oof.
And what does it cost us?
In the wise words of philosopher Ferris Bueller, "Life moves pretty fast, and if you don't stop to look around once in a while, you could miss it."
Life does move pretty fast. Everything I've done in my career and everything Escape Adulthood stands for is about keeping you from missing it.
Meanwhile, the number one goal of Adultitis is to run out the clock on you. Not with boredom, which Adultitis has conditioned us to fear, but by distracting you with stupid games and shiny objects so that your anxiety stays high, your memorable moments are minimized, and your impact is nonexistent.
We admire those with clear goals who navigate life's distractions. And yet, the urge to flutter aimlessly is powerful.
If you ever feel more like a migrating dragonfly than you'd like, here are some habits that have worked wonders for me:
These are hard-earned habits; I possessed not one of them twenty years ago. But they keep me on track, far less dumb and far less easily distracted than I'd otherwise be.
Perhaps choosing to focus on one of them over the next few weeks will give you a greater calm and steady sense of direction.
The migrating dragonflies are fun to watch, but they prompt us to ponder a crucial question: Are we zigzagging aimlessly, or are we honing in on what truly matters?
The skies are vast and the possibilities are endless, but life is fleeting.
Choose your flight path wisely.
---
🤔 I wonder…what is one of your hard-earned habits that helps you stay on course?