Kim and I got in late last night from Orlando and the National Speakers Association convention. Our bodies are tired and our minds are swimming. What a privilege it was to be in the company of so many great individuals.
Among the highlights was seeing Charlie "Tremendous" Jones receive the coveted Cavett Award (sort of like the MVP award for professional speakers). What a genuinely great man. Here are a couple of my favorite quotes from Charlie:
"You will be the same person in five years as you are today except for the people you meet and the books you read."

"If you can't be happy where you are, it's a cinch you can't be happy where you ain't."
Another highlight from the main stage was Dan Menendez, the piano juggler. No, he doesn't juggle pianos, but what he does do is probably more impressive. It's hard to describe in words; you have to see it to believe it. Luckily, he has some video clips on his website. Check out the clip from the Ellen Degeneres show. Talk about childlike.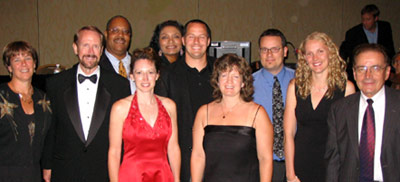 The photo above features some of the folks from my Wisconsin chapter who made the trip to Orlando. I am so grateful that Kim was able to be there — she may have been the only other introvert in attendance besides me — and that we're able to work on this business together. Our hotel room had a balcony and we could see the fireworks from Disney World off in the distance. The bursts of color in the night sky was a nice backdrop for rehashing the events of the day. We had a lot to sort out, carefully measuring the advice coming from all directions. I took copious notes, getting several pages worth of gold from some of the best presenters in the world. Kim got a crash course in sales, branding, and PR. And one guy actually told me that I need to shave my sideburns and dress better or I'll never make the big bucks in the corporate world.
After much deliberation, the sideburns are staying.