I would have to say that I'm in my dream job. I write this blog post from a hotel room in Pleasanton, California (near the San Francisco/Oakland area.) I had a speaking gig this morning where I was able to encourage a gym full of people to make their lives a little bit more fun an fulfilling. We sold prints and comic books featuring funny pictures I've drawn over the past six years. Kim and I will be able to spend the next few days in San Francisco, while collecting some footage for our new project, Escape Plan TV. I draw, write, talk (and travel) for a living. Certainly not a typical job by any standard. There's a good chance it may not even be that appealing job to many people. But if I were asked what my ideal dream job would be, I'd have a hard time topping this one.
Sometimes people remark about how lucky I am to be in this position. Blessed, yes. But lucky? No.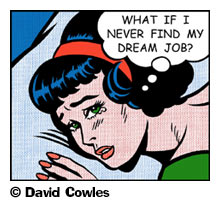 I remember years ago when I worked for a car dealership while I was in high school and college. It was a pretty good job as far as flexibility goes. But I hated it. I hated sweating my butt off during the summer when I had to vacuum hot cars. I hated cleaning the yellow-filmed interior car windows of heavy smokers. I hated breathing car exhaust because the lazy mechanics wouldn't always put the hoses on the tailpipes. I hated brushing the snow off the cars in the winter. I hated coming home dirty and smelling like oil. I hated having wet socks from washing cars all day. And I hated one of the shop foremen — he was a real jerk.
I remember working there one day when I made a promise to myself. I decided that no matter what, I was not going to get stuck in a dead-end job I couldn't stand. I was going to make something of myself. I was going to finish school, chase my dreams, and never give up, no matter how hard it would be.
Well, so far, it's been a LOT harder than I though it would be. Kim and I have made a lot of sacrifices (a kindergarten teaching salary does not go as far as one might think.) We've gone through a lot of air conditionless summers. (Thank God heat is included in our rent!) And I'll never forget the slew of disappointing craft shows where we unsuccessfully hawked some of the very same prints that now sell like hotcakes at my speaking gigs. (One particular show in Milwaukee cost us over $250 in fees and expenses, and we sold a grand total of three greeting cards in two days. That was good for a whopping $7.92 in revenue. Take that, Trump!)
So what is the point of this long-winded tale? The point is that finding your dream job is more about making choices and being persistent than it is about waiting for the perfect opportunity to fall in your lap. It's about evaluating your talents, dreaming big, following your heart, and trusting God to guide your path.
Are you in your dream job? If so, I applaud you. But you are in the minority. According to a CareerBuilder.com survey released on January 25th, more than four out of five U.S. workers are still searching for their dream job. One way to begin the search is to look back at your own childhood. I find the comments by one of the CareerBuilder.com representatives interesting:
"What defines a dream job is surprisingly reminiscent of childhood wishes for many workers," said Richard Castellini, vice president of consumer marketing at CareerBuilder.com. "Workers said they want to enjoy their work experience, apply their talents and feel like they're making an impact. Having fun at work was the most important attribute of a dream job for 39 percent of workers, which heavily outweighed the 12 percent who said salary was most important."

Salary was one of the least important factors in determining a dream job. Money ranked third (12 percent) compared to having fun at work (39 percent) which topped the list, followed by making a difference in society (17 percent).
I have been accused of being an idealist, but I can't help but wonder what our country would look like if EVERYONE was in their dream job. Heck, I'd like to see the effects of even three out of five folks working at their dream job! Are you one of those people who think that it would be impossible for everyone to be in their dream job? Wouldn't everyone want to be Donald Trump, or Oprah, or a movie star? I'm not so sure about that. (Keep in mind that across all professions in the survey, police and firefighters reported the highest incidence of feeling they have their dream jobs (35 percent), followed closely by teachers (32 percent.) Everyone I know has such a unique mix of skills and interests and passions that I like to think that somehow, everyone would fill a specific need and there'd be plenty of dream jobs to go around.
So what about you? Are you in your dream job? If not, what would it be?