The other day, a woman came up to me after one of my presentations in Pleasanton, CA.
"The whole time you were asking rhetorical questions, I found myself trying to figure out the answers," she started. "For instance, 'What is the point in our lives when we lose our childlike spirit?' Sometimes I think it's when we're forced to shoulder the load of life's responsibilities; we're afraid that we won't be able to handle them adequately — or be seen as irresponsible — if we hold on to our childlike side."
You know, I think she's right. Too often, accepting the responsibilities of life is approached as an all or nothing proposition. Either you effectively manage your life by embracing a decidedly measured and strict "grown-up" approach, or spiral into a socially unacceptable life of immaturity, aimless wandering, unfulfilled potential and unpaid bills.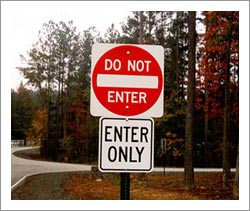 But I don't think it's an all or nothing choice. I believeit's possible to be childlike, have fun, and enjoy life while still being a responsible and successful mom, dad, boss, teacher, employee, or even President of the United States.
Take, for example, Jennifer Robinson. She's a cool friend of mine who also happens to be smart as a whip. (Are whips smart? Where did that phrase come from?) Anyhoo, she has a Ph.D. in Industrial Engineering and is currently co-founder and Chief Operating Officer of FabTime Inc., a company specializing in cycle time management software for wafer fabs.
I have no idea what that means.
From a simpleton's perspective, that seems like a very "grown-up" job with little room for childlike hijinks. (Notice I said "seems like"… I happen to know that engineers can be quite a goofy bunch in their own right.)
So even though Jennifer's day job seems like a potentially strait-laced job, she writes an incredibly thorough blog dedicated to promoting the love of books by children, and the continued reading of children's books by adults.
That's right, children's books.
Life is filled with contradictions, and it's a fruitless — but seemingly innate — activity that we humans like to engage in: labeling things and putting them in boxes. Contrary to popular belief, there are gay people who work for the Catholic Church, liberals who are pro-life, and Republicans who care about poor people. Life is not always all or nothing. It is possible to be childlike AND still pay your bills with real money, not the Monopoly kind.
That's the lifestyle that I advocate. One that actually gives you a better chance of reaching your full potential as a person, and one that guarantees that you'll have fun along the way.
How about you? Do you know of any examples of people who are responsible adults but do a good job of maintaining their childlike spirit?
[tags]responsibility, childlike, Jennifer Robinson, immaturity, Catholic Church, liberal, conservative, success[/tags]