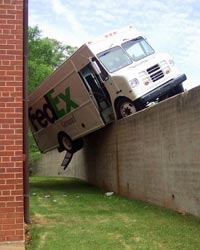 The other day, Steve Rubel offered up the concept of life being a perpetual beta. For those of you non-tech nerds out there, "beta" is a concept used in the software industry to label the first version of a program to be released outside the organization or community that develops the software, for the purposes of evaluation and testing. (from Wikipedia)
Simply put, if it's in beta mode, it ain't perfect.
Life is in perpetual beta. What a great reminder to us all, especially those of us who struggle with the Adultitis-driven tendency to 1) consider ourselves perfect, 2) strive to be perfect, or 3) at the very least, appear to be perfect.
Kids don't have any qualms about not being perfect. It doesn't seem to bother them much. They color outside the lines, spill things from time to time, and aren't all that concerned with wearing clothes that actually match. If they were serious about being perfect, I suppose they'd never learn how to walk or ride a bike (too much falling down).
Somewhere along the line, we get the idea that we have to have things figured out and everything has to go perfectly. We don't give ourselves permission to make mistakes, we throw tantrums when other people don't perform up to our high standards, and we refrain from trying new things for fear that we might look foolish.
All this adds up to lots and lots of stress and unhappiness.
We were taught growing up that nobody's perfect, and yet we live our lives as though we should be. Should we strive to do the best that we can? Of course. But don't kill yourself for perfection, because it ain't gonna happen. (Wow! Two instances of the non-word ain't in one post! — make that THREE!)
I guarantee you'll stress less if you keep in mind that you're always in beta mode. Because as my friend Eliz says, "It's not about perfection, it's about moving in the right direction."
[tags]beta, Steve Rubel, stress, perfection, perfect[/tags]