As I sat typing on Daisy, my Mac, waiting for the car to get some fresh oil, I couldn't help but smile to myself at the psychology lesson that was unfolding right before my eyes. Folks were coming in to drop off their cars for everything from oil changes to big money repairs. To say that "attitude is everything" at the mechanics is an understatement.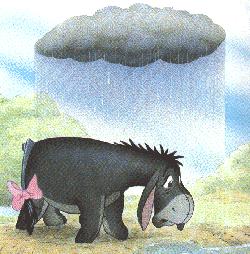 First a thirty-something woman came in, very Eeyore-like. Although she wasn't elderly, she sure seemed to be moving at a pace that would get her some significant discounts at Arby's. Her presence was gloomy and grey, just like America's favorite depressed donkey. The cheery voice behind the counter asked her how her day was starting. She responded with a weary, "Not horrible, I guess. I'm just tired." God bless him, the determined optimist joked , "Well, at least you're not sick AND tired." No laugh.
Shortly after, a baby boomer gentleman came bouncing through the door with a smile on his face and a friendly salutation that extended to everyone in the room. Such a stark contrast, I stopped working to take notice. This guy was larger than life. He brought the sunshine in with him. It was clear in my quick assessment that he loved living, was confident and purpose-driven, and that he was going to have a great day,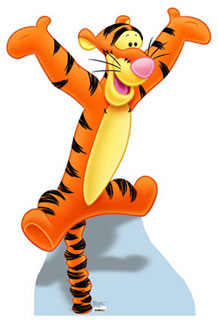 no matter what. He seemed be living Tigger's philosophy, "Bouncing is what Tiggers do best."
Which one are you?
Look above you right now. Do you have a storm cloud lingering overhead or a rainbow?
Look on your desk, is your glass half full or half empty (or bone dry)?
The harsh reality is that within three seconds of encountering someone new, you are evaluated, the first impressions are made and that impression is almost impossible to reverse. Sure, life isn't all daisies and roses, but how quickly do you bounce back? Rainbow and storm clouds exist in the same sky. One secret to keeping that rainbow above you is to surround yourself with positive people. As Jason reminded you last month…
"You are the average of the five people you spend the most time with." – Jim Rohn
My friend, Rich "the big kid" DiGirolamo ends all of his emails with, "Make something fun happen today! The world needs it!" And then there's my buddy, Phil Gerbyshak, the Make It Great Guy! He's constantly encouraging others to "Make every day a Great Day!"
Look around you, are "your five people" bouncing or trudging through life?
If someone saw you at the mechanics, what first impression would you make?
Take charge of your attitude.
It's time for a tune up.
[tags]attitude, Rich "the big kid" DiGirolamo, Phil Gerbyshak, Eeyore, Tigger[/tags]