I've always wondered what kind of old person I'd be. Should I be starting my collection of itchy sweaters now? Will I wear Velcro shoes? Will I smell funny?
When I was a kid, many old people seemed grumpy and depressed, uninterested in life. I kind of thought that such a fate was inevitable. Of course, as I've gotten older, I've encountered many senior citizens who are very vibrant and full of life. I've happily discovered that an ever-increasing case of Adultitis is NOT an automatic part of aging. In most cases, grumpy old folks with Adultitis were probably at one time grumpy middle-aged folks with Adultitis.
Thankfully, the vibrant ones have taught me that even though we all grow older, growing up is optional. I've decided that I'm going to be one of those fun, mischievous old guys — the kind that people like having around — rather than one of those grumpy old fussbudgets, always complaining about things.
The bottom line is, as always, life is what you make it. A childlike spirit is something you can take with you for the whole journey.
That point is proven by residents of a nursing home in England, who have taken up video games — Nintendo's Wii gaming console, to be exact — as a way to stay active, have fun and feed their imaginations. Here is an excerpt from an article in The Sun [Hat tip to Bernie DeKoven]:
Residents as old as 103 have ditched knitting and bridge after getting hooked on the console.

Barrie Edgar, 88, said: "It's great fun. We've only had it a few days but we can't put it down."

Jayne Naylor, director of the Sunrise Home in Birmingham, said it took off after a chef brought in one of the motion-sensitive consoles which mimic sports like tennis, bowling, and boxing.

Jayne, who is now organising leagues, said: "It's captured everyone's imagination.

"Most residents are in their 80s and 90s.

"Things have got quite competitive."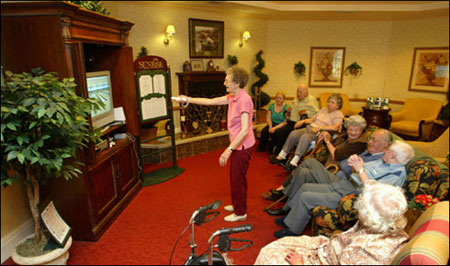 I think this is just cool (and a great example of why the Wii is dominating the video game market.) I remember being dragged to the nursing home by my Grandma K. to see her friend Marie. If there is anything on Earth scarier to a five-year-old boy than a nursing home replete with sad, dementia-riddled old people, I have yet to come across it. I dreaded going there, because inevitably, some really old dude in a wheelchair would try and grab me. I know now that he was probably just very lonely, but back then, I was just focused on surviving Zombieland.
Now if the whole gang was sitting around playing Frogger, things may have been different.
At one time in our lives, we were all experts at playing. For many of us, that skill gets a little rusty (in some cases, a LOT rusty.) Knocking off that rust and injecting a little playfulness into our day-to-day is good for the heart, mind and soul. This article is a great reminder that fun is something we all need. And the story inspires me, too. I wanna be the type of old guy that inspires people to say, "I want to be like him when I'm older."
I can't wait to see what kind of video games they'll have on the market by the time I'm in a nursing home.
[tags]nintendo, wii, nursing homes, senior citizens, video games, Frogger[/tags]