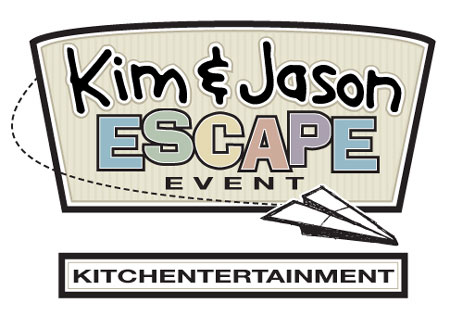 Imagine, tons of people all over the world, joining together to do something childlike, all on the same day! That's the idea behind the Kim & Jason Escape Event, and we're inviting YOU to make history by participating in the first one ever. The themed activity of the day will be in the same vein as the challenges in The Escape Plan: something open-ended that is designed to produce as many different results as the people who participate.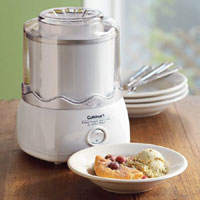 We also thought it would be neat to make it into a friendly competition. If you are a member of Club K&J, we'd love for you to send us your story, your photos, and even a video of how you solved the challenge. The best, most creative entries will then be voted on by…YOU! And the winner, besides basking in the adulation of K&J Nation, will win a super cool prize. Sound like fun? We thought so! So here's the plan for the first official Kim & Jason Escape Event:
The Date: Saturday, Feb. 23, 2008.
The Challenge: Kitchentertainment – Make a childlike moment in your kitchen. It could be resurrecting an experience from your childhood or creating a brand new one.
The Contest Rules: Anybody can have fun with the challenge, but only Club K&J members can be eligible for the prize. The challenge must be completed on the actual day of the Escape Event, and entries must be submitted by 8 a.m. CST on Monday February 25, 2008 in order to be considered.
The Prize: A Cuisinart Ice Cream Maker from Williams-Sonoma (valued at over $100) AND a copy of Ben & Jerry's Homemade Ice Cream and Dessert Book.
We invite EVERYONE (and that means YOU) to participate in the first ever, history-making Kim & Jason Escape Event. Even if you don't want to enter the contest, it will be a great experience to do something fun on a day when you know that scores of other Club K&J members are joining you in the festivities.
Submitting Your Entry:
In order to be eligible for the big prize, you need to be a current member of Club K&J (Join today!) Once you complete your challenge, send an e-mail to clubkj@kimandjason.com to let us know how it went. Share all of the exciting details, and feel free to attach pictures to the e-mail as well.
If you're really ambitious, you can even share a video with us (but don't attach that to the e-mail!) Instead, simply upload your video to YouTube and include the link to your video in the e-mail you send us. (Uploading videos to YouTube is free, all you need to do is create an account.)
We need your submission e-mail by 9 a.m. on Monday, February 25. We'll choose the best, most creative entries as finalists, and then open up the voting to everyone!