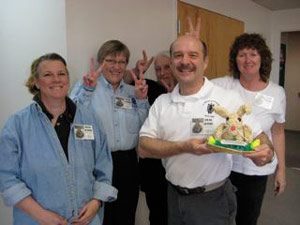 Well, you have spoken, and the winner of the first ever Kim & Jason Escape Event is Club K&J member Jim Peters! He received 54% of the vote total, making him a landslide winner. For those of you who missed out or are new to Kim & Jason, the Escape Event challenge, dubbed Kitchentertainment, was to "make a childlike moment in your kitchen. It could be resurrecting an experience from your childhood or creating a brand new one."
Everyone was invited to play along, and Club K&J members were eligible for the prize: a Cuisinart Ice Cream Maker from Williams-Sonoma (valued at over $100) AND a copy of Ben & Jerry's Homemade Ice Cream and Dessert Book.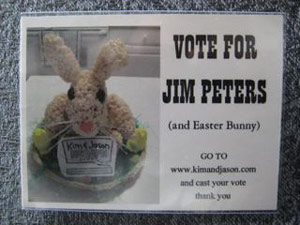 Hundreds of people voted, and Jim, who made an Easter Bunny out of Rice Krispies, came out on top. He stole the hearts of voters, and also did a pretty good job of getting out the vote. His co-workers made up badges to wear throughout the week, encouraging people to vote. Very cute.
So congrats on the big win, Jim! And congrats to everyone who spent some time turning an ordinary Saturday into one with a little childlike fun. Take a look at all the finalists — they ALL did a great job of showcasing their childlike spirit and creativity. And rest assured that we already have the next Escape Event in the works. Stay tuned for details!