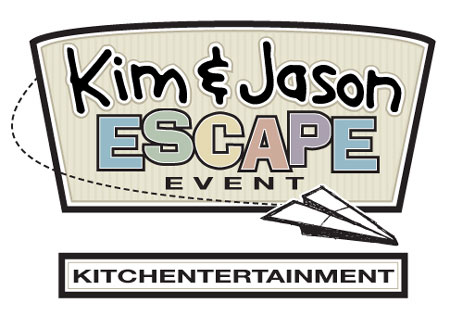 Last Saturday was the first ever Kim & Jason Escape Event. The challenge was called Kitchentertainment, and everyone was invited to do the following:
Make a childlike moment in your kitchen. It could be resurrecting an experience from your childhood or creating a brand new one.
Kim and I decided to make homemade Shrinky Dinks. Lots of people joined in on the fun, sharing with us stories, pictures, and videos of the event. All Club K&J members who participated were eligible to win a cool prize: a Cuisinart Ice Cream Maker from Williams-Sonoma (valued at over $100) AND a copy of Ben & Jerry's Homemade Ice Cream and Dessert Book. We pored over all of the entries, and decided on six finalists. The rest is up to YOU!
Take a look at the following entries (listed in alphabetical order by last name), and decide who did the best, most creative job of fulfilling this task. Then vote for that person in the poll below.
Finalist #1: Jill Gaudio
From Jill: "When I was a little girl I sometimes used to 'cook' with my dad. He would give me a little bowl and let me go wild with it. Here's some of the ingredients; water, oregano, salt, pepper, ketchup, syrup, thyme, cinnamon, mustard, graded cheese, barbeque sauce, etc. I would mix all of these ingredients into my bowl of water and then hand it to my dad. He would pick up a spoon, put it up to his mouth, and pretend to take a sip. He even made the slurping sound, and me, being a believing kind of kid, thought he liked my soup!
So I thought it would be fun this weekend to recreate this 'soup.' And it was! My roommate thought I was completely insane, but I had a blast! Thanks for the opportunity to relive one of my best childhood memories!!"
Finalist #2: Joyce Halm
From Joyce: "With a chocolate cake mix I made a dozen cupcakes. After letting them cool, I put a knitting needle through them to connect them. Then I took the cup ice cream cones and cut the tops off. I frosted the cones with chocolate frosting. I put the row of cupcakes (9) on the knitting needle & set them up on the ice cream cones to make legs. The row of cupcakes is the body. I frosted a straight pretzel for a tail. I then used graham crackers & shaped them into ears using frosting to cover them. After that I added small green marshmallows for the eyes and pink for the mouth. Put it all together and you get a WIENER DOG. I added a sign which said, 'IT'S BEEN A LONG WIENER.'"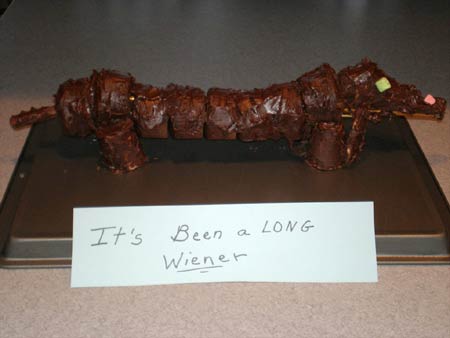 Finalist #3: Jim Peters
From Jim: "Those who know me will agree that just finding my way through the kitchen is in itself a major challenge! (It has frequently been said that the best thing I make for dinner is reservations!) So, actually creating something intrigued me. The first question I asked was, 'What kid doesn't like Rice Krispies Treats?' Having never made them, I thought this might be a reasonable challenge.
But even I felt that simply making Rice Krispies Treats wasn't all that spectacular. Noticing that the date of the Kitchentertainment Event was basically One Month 'Til Easter, I asked another question: 'What kid doesn't like bunnies?' or even more specifically, 'The Easter Bunny?' Thus, the goal of my challenge: to make Rice Krispies Treats that not only maintain some degree of edibility, but also bear some semblance to the Easter Bunny!" (View Jim's slideshow below.)
Finalist #4: Natalie Regis
From Natalie: "My childhood love of the Easy Bake oven fueled my grown-up love of all things cooking. To help me escape adulthood I brought out my childhood toy to bake up some kitchentertainment!"
Finalist #5: Minette Sternke
Today, I was inspired by the Wishmas events, specifically the edible snowmen. I remember wondering back in December if you could make edible snowmen from popcorn balls. So, today I decided to try this. I found a recipe for popcorn balls on the Internet that looked easy (butter, marshmallow and vanilla over popcorn – how hard could that be?). Well…I proceeded to melt the butter and marshmallows. Once the marshmallows were melted, I was to add vanilla then pour the melted marshmallows & butter over the popped popcorn. I reached into my cupboard, pulled out a bottle of flavoring, thinking it was vanilla (but of course not checking the label!). I opened it up, added a little bit, then realized I was NOT smelling vanilla but something else entirely. I had added peppermint flavoring instead of vanilla! Ah, well, I decided to add red food coloring too just to get into the spirit of things. My twin sister and I have tried them and decided peppermint popcorn balls aren't quite so bad after all!
I made one popcorn ball snowman with some very wicked red eyes and pretzel stick arms, then made "regular" popcorn balls out of the rest of the batch. I'm taking them to a meeting tonight to see if anyone wants to share. Here are pictures of the "wicked snowman" and the rest of his kingdom of snow balls!" (View Minette's slideshow below.)
Finalist #6: Mary Beth Updike
From Mary Beth: "I looked through my niece's cookbook (kids in the kitchen) and found a recipe for face paint. I decided that would be a lot of fun to do and very childlike. It was a simple recipe, it only takes cornstarch, cold cream, water, and food coloring. But the possibilities are endless. I had my niece's help making the face paint and she decided on the colors we made (black didn't work out, it turned puke green as she put it). She wanted to have her face painted as a butterfly, and I chose much simpler and put hearts on my cheeks. It was a lot of fun to do and a keeper recipe for a rainy or cold afternoon. Thanks for the challenge!
The pictures are of my stirring, Merlyn's stirring, and us with our faces painted." (View Mary Beth's slideshow below.)
Place YOUR Vote!
Who did the best, most creative job of fulfilling this task?
{democracy:2}