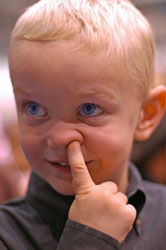 Well, not all of it. Let me explain. Brett Farmiloe has neat post about the things our mothers told us and how they affect our adult lives. Some of the instructions, if they've stuck with you, serve as beacons of good behavior and great advice.
"Remember to say your please and thank yous."
"Wash your hands."
"You could have called."
"Stop picking your nose."
Challenge #11 of the Escape Plan is You're Not The Boss of Me: Do something your parents would never let you as a child. Most parents want the best for their kids, and the rules they pass down to us reflect the culmination of best judgments based on their life experience. They're designed to keep us safe, help us be successful, and prevent us from looking like a total buffoon. (Especially the nose-picking advice.)
But sometimes they're wrong. Sometimes the advice they've passed along is broken or misguided. Sometimes Mom was just repeating the stuff her mom said. And sometimes it becomes a crutch, keeping us from achieving our full potential.
"What do you think, money grows on trees?"
(This conditions us to think that money is scarce.)
"Are you going out dressed like that?"
(This conditions us to seek the approval of others.)
"If you don't have something nice to say, don't say it at all."
(This conditions us to keep the truth silent if we think it might offend someone.)
"Children should be seen and not heard."
(This is a despicable statement uttered only by people with full-blown cases of Adultitis.)
The rules our moms gave us as children impact us our entire lives. The people who make a difference in the world — you know, the ones written up in history books — became comfortable with the idea of breaking the rules. It's easy to rebel against the rules put forth by some faceless government, school board, or religious institution. What's hard is breaking the rules ingrained in us by our parents.
But sometimes, in order to become all that God created you to be, you have to ignore what mom said and go your own way. Just don't pick your nose while you do it. (At least in public.)
P.S. The photo above just so happens to be the son of Ree, aka Pioneer Woman. Check out her blog if you get a chance. It's fabulous.