A highlight for me this summer will be the release of the new Batman film, The Dark Knight, featuring the late Heath Ledger in a standout role as the villainous Joker. One of the big lines being used in promoting the film comes from the Joker himself, who says, "Why so serious?"
The same question might be asked of most of us.
I remember standing on the bus stop as a young boy, waiting for my early morning ride to school. My mom made me walk the three blocks to the corner much earlier than was necessary, probably ensuring that she wouldn't have to disrupt her morning routine in order to drive her dilly-dallying son to school.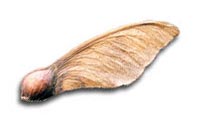 This meant I had a lot of time on my hands.
One thing that passed the time quite well was playing with maple tree seeds — the blade-shaped fruit that mimics the action of a helicopter as it falls to the ground. What fun it was to grab a handful, toss them in the air, and watch them spin down around me in a whirling frenzy. They played the military aircraft to my King Kong.
I was reminded of these little guys today on my morning walk. I was on a corner, ready to cross the street, when a single seed spun past my shoulder.
I smiled. I remembered.
Then I thought of God, who originated the design for this little seed; a deceptively simple and seemingly insignificant object of mirth which descends to earth from on high in a clumsy sort of poetic gracefulness.
And then I thought of us humans — particularly the grown-up faction — and how we've grown so adept at making mountains out of molehills. We've mastered the ability of making the trivial monumental. We fret about all sorts of things, from gas prices and elections to how we're going to kill those weeds in the yard and what we should wear to next Friday's function. We elevate inconsequential issues to a level of supreme importance.
In the big scheme of things, most of the things that we worry about never happen, and most of the rest don't matter.
I'm sure that there are plenty of good scientific reasons God designed the maple seed the way He did. But to watch it float to the ground in a perfect display of whimsical silliness makes me wonder…maybe one of the reasons for this design was to whisper a question to anyone who happens to see one twirling downward. A simple, three-word question:
Why so serious?