We held an Adultitis Clinic last weekend, and face painting was involved.
It was the first time I have ever attempted face painting, and it was not without its challenges.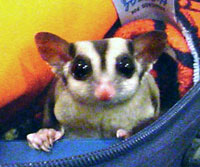 One little seven-year-old girl had a specific request, but held back because she figured I wouldn't know what it was. Well that was all it took to stoke my competitive fires, so I urged her to tell me. Needless to say, I think I became the first face painter in the history of the world to paint a "shuga gliduh" on a little girl's face.
A sugar glider, as I came to find out, is a small nocturnal animal from Australia, resembling a flying squirrel. She used to have one as a pet. And thanks to the amazing power of the internet, I was able to find a good reference and achieve a pretty darn cute interpretation of a sugar glider, if I do say so myself.
Meanwhile, my Dad and brother got into the spirit as well. We decided it would be interesting to see what my Dad would look like with a good old fashioned Magnum, P.I. mustache. I took great care to blend the brown and white paint, while carefully varying the stroke lengths to craft a pretty dang good facsimile.
Doug decided that he wanted to look like a doodle. You know, the way any newspaper photo of someone's face looks like after you've spent forty-five minutes chitchatting on the telephone.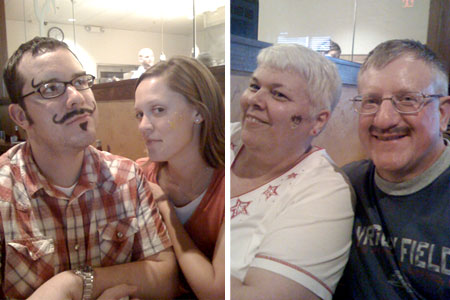 I regret that I didn't go for the full effect by painting in a black eye and block out some teeth. (By the way, Katie is sporting a shooting star and my Mom is displaying a tiny cartoon Jason. You know, from that one comic strip.)
We had a blast. But the fun didn't stop when the Clinic ended. Not by a long shot. In the spirit of Escape Plan Challenge #3, my Dad and youngest brother decided to wear their new-found facial hair out to dinner. I cannot tell you how many secret glances, hidden finger points, and outright stares they got. Especially Doug. At one point my sister-in-law Katie, upon noticing an extended glance from a passing waiter, exclaimed, "It's okay, you can look at it."
Sheepishly, he responded, "Well, it seemed like it was painted on, but from a distance you couldn't tell."
Between the waitstaff, the cooks, and fellow diners sitting at neighboring tables, I'm quite sure we made a number of people's nights. The fun continued as we continued on to the mall and to the Apple Store where my Dad ultimately bought his first iPod, before we finally went home and the mustaches were washed away.
My Dad and brother really impressed and inspired me that night. You can't argue that they did something that could be seen as inappropriate for people of their ages. But you also can't argue that they inspired a lot of smiles and laughter that evening as well. Something the nightly news can't lay claim to.
Adultitis has a sneaky way of lulling us into dull, routine-driven ruts. Sometimes it takes something jarring to break us out of our trances to remind us that we don't always have to take ourselves so darn seriously all the time.
Behold the power of a painted-on mustache.