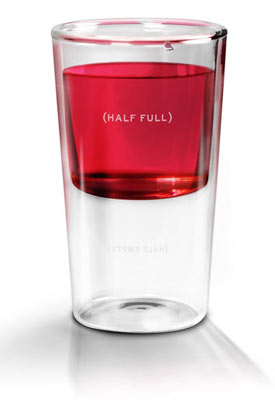 Labor Day weekend is upon us; the unofficial end of summer that reminds us, "Quit goofing around, it's time to get back to work."
Perhaps you've heard the rumor that unemployment is really, really high.
If not, it's probably because it's been drowned out by all the other bad news being reported by seemingly every media source. The economy is depressed. Terrorism is on a rampage. And the Earth is melting. (Or is it freezing — I wish they'd make up their minds.)
If you listen to the pundits for too long, you'll become convinced that we're living in the worst period of time in the history of the world.
Bummer, huh?
No wonder Adultitis is at an all-time high. I, for one, am tired of it. Tired of the problems, for sure, but also tired of the hand-wringing and worrying. It feels like it's been going on so long now that I'm actually tired of being tired of all the negativity.
How about a little optimism?
Yes, we have challenges. Crazy big ones. But dwelling on them endlessly only drives us to a deeper sense of fearful paralysis. And while we are tirelessly focusing on how bad things are, what are we missing out on?
Opportunities, for one. And reasons to be grateful.
There's a popular phrase people often use when reflecting on their past: "Those were the good old days." Ever notice how nobody ever says, "These are the good old days?"
Hmm. What if you — right now — were currently smack dab in the middle of your "good old days?"
Think about it. Before you — right now — are opportunities, moments, and blessings you'll never experience again. You have people in your life right now that you won't have with you forever. Maybe not next year. Are you appreciating them? Or are you taking the good things for granted while you focus on your fears?
It really is a simple matter of changing your perspective, the one thing in this crazy world that you DO have control of. Two people can look at the same glass, with one calling it "half full" while the other calls it "half empty." In my experience, the "half full" people always seems to be happier, less stressed, and more fun to be around. They're the ones that notice Cracker Jack prizes in spades and are always able to spot reasons to celebrate, no matter how negative the nightly newscast may be.
Labor day is a fun holiday, often marked with picnics, parades, and burnt hot dogs. Maybe you could use it as an occasion to practice becoming more of a "half full" kind of person. And think of all the great reasons there are for being alive. Right here. Right now.
Happy Labor Day.
And remember, every day is a holiday. It's just that most days, what to celebrate is up to you.