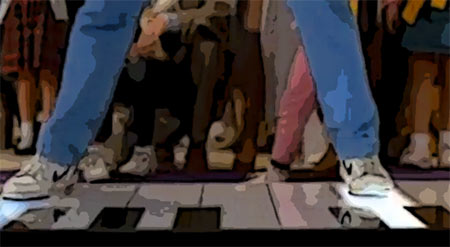 It has been said that we don't remember days, we remember moments.
I like to call these moments "scenes."
Like how there are certain scenes in certain movies that stand out as truly memorable…
Jack and Rose perched on the bow of the Titanic.
Lloyd Dobler holding up the boombox playing Peter Gabriel's "In Your Eyes."
Tom Hanks tap dancing "Heart and Soul" and "Chopsticks" on the giant floor-sized electronic piano at F.A.O. Schwartz.
Magic.
Just like movies, great lives also have great scenes. Although some of the best scenes in life come about by chance, most people fail to realize that great scenes can also be created. On purpose. Often, with very little money or effort.
You just need to decide to want to. And be willing to instigate a small rebellion.
In my speaking programs, I try and share as many "scene-making" ideas as possible. Every once in a while, I'll talk about having a spaghetti dinner…with no plates. Most of the time, I get a lot of eye rolls — especially from the women. (Even after I share with them that the idea was originally given to me by a mom.) I'm sure they immediately think about the mess. And the clean up. And perhaps even what kind of precedent they'd be setting for their kids (and husbands.)
I'm happy to report that at least one mom decided to rebel against all this Adultitis-inspired thinking. Here's what Keri shared on our Facebook Wall: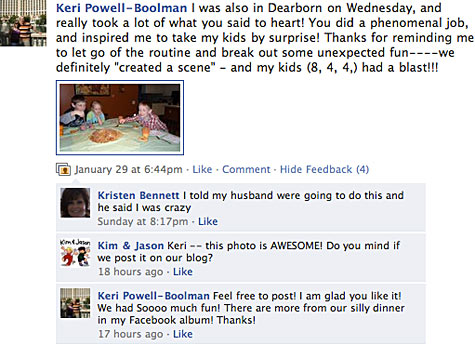 By the way, check out the comment section under the photo. I'm sure the reaction of Kristen's husband is the reaction most people would get (or at least fear they'd get.)
Oh, and here's a close-up of the silly spaghetti meal: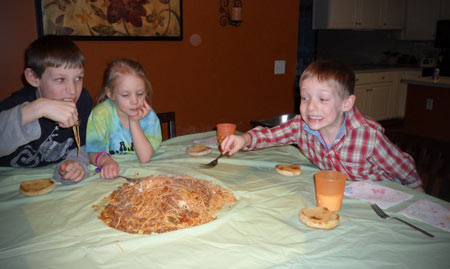 Of course, the trick here, as Keri marvelously demonstrated, is to use a cheap plastic tablecloth to eliminate most of the mess. Take that, Adultitis.
Kudos to you, Keri! I'm sure you've created a scene your kids will never forget!
What small rebellion have you witnessed or initiated recently?