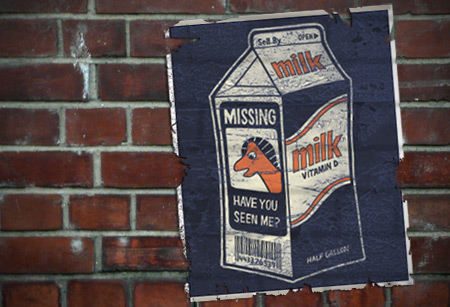 [ Click the image to get your own Pokey is Missing t-shirt at the Lemonade Stand. ]
We sure spend a lot of time focusing on (and worrying about) the big stuff. You know, things like the economy. Unemployment. Health care. War. Nuclear meltdowns.
Big, important, paralyzingly scary stuff.
And yet.
I find it rather interesting that in all the stories I've ever heard about people on their death bed surrounded by loved ones, these big, important topics never seem to make the conversation. Instead, we reminisce over shared adventures, inside jokes, and games we played around the dinner table.
These memorable moments — I call them scenes — are the stuff that life is made of. The stuff that really matters in the end.
In today's modern world, it's really easy to have a week jam-packed with activities and yet emerge having collected very few — if any! — of these scenes with the people we love most. The sad part is, creating a great scene is not very hard at all.
Anyone who has been to one of my speaking programs has heard me tell the story about hiding Gumby's good friend, Pokey. If you haven't, here's a short clip to catch you up:

Now, playing hide and seek with a little plastic toy is certainly something you could start doing today. Like right now. It's not rocket science, and may even seem overly simplistic. But as the story I told in the video shows, these little habits of fun can create VERY strong ties with the people we love.
I am thrilled to hear stories of people having their own fun with Pokey. Here's an account from Lisa Dickey, who saw me speak at an early childhood professionals conference in Chicago last May:
We ordered a large order of Pokeys from your website and have been doing the Pokey game with our school-age children (over 60 kids) and they LOVE it! Every day after school they get back and ask me, "Did you hide Pokey?" We have been hiding it in their backpacks, shoes, coat pockets, etc. When we talked with them about it, we told them that if they found Pokey it is because someone thinks they are special and wanted them to know how special they are. We are making sure that everyone has a chance to find Pokey.

Now, the kids love it so much that we are going to let families buy a Pokey or order one from your website for their kids…the kids keep asking if they can get one for their family. Thanks for sharing that great game! We are LOVING it!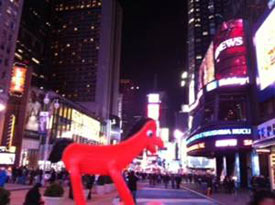 We have distributed quite a few Pokeys over the years, and he really gets around. Jennifer & Lindy Castro from Michigan got their own Pokey when I visited their church last fall. Since then, Pokey has traveled with Lindy to Asia and New York!
The stories go on (feel free to share yours in the Comments), but the moral is the same: it's easy to create a scene that sticks with you forever.
Sometimes all you need is a reminder and an idea.
A reminder to take a break from your hectic pace.
And an idea that's easy and simple and actually fun.
That's why Kim and I are so excited about a project we've been working on for the past year-and-a-half. In about a month, we finally get to share it with you.
We're calling it The Kim & Jason Guide to Cheap Family Fun.
You'll be hearing more about it in the weeks to come, but it's a product in which you get an email a week for whole year (that would be the reminder part), that includes a link to a short and entertaining video (the idea part). In the video we share a completely free (or dirt cheap), easy-to-implement, and outrageously fun activity that will involve the WHOLE family.
We've compiled the best ideas we've collected over the past decade into one memory-making year of fun and frivolity. And as we're putting the finishing touches on it, I'm proud to say it turned out really, really good. It's kind of like having us sit down with you at your kitchen table so we can tell you all of our best stuff.
Hopefully it will serve as a force for good and a tool to help families fight Adultitis and grow closer together.
We're hoping to release it into the world by the end of April. If you want to make sure you're the first to hear about it when it's finally ready, make sure that you're signed up for our weekly newsletter.
Meanwhile, find yourself a Pokey or a similar friend and start having some fun this week.
Because when Pokey goes missing, the fun is just beginning.